The family camping trip is an Australian institution, but choosing the best family tent can mean the difference between a trip to remember and an experience you'd prefer never to repeat.
Whether you are buying a tent for the first time or are thinking of upgrading, you will be delighted by the number of options available today. Family tents range from the technical and hike-ready to multi-roomed luxury, which means that regardless of how diverse your clan is, you can probably find something that ticks all the boxes. You've already got an awesome
sleeping bag
and
mattress
, so you'll want the best tent money can buy.
That said, the size of the tent market can be rather overwhelming. Knowing precisely what to look for regarding factors like size, ease of setting up, durability or affordability will save you a bit of shopping time, but you will still be left with more than a handful of options.
You might be spending a couple of hundred bucks or over a grand. Either way, it's a stressful decision when you consider that you'll want your family tent to last you for many years to come.
Lucky for you, we've researched dozens of tent models to present to you the ones that are best for a variety of needs and preferences.
Below are our the best tents for families who love camping in the great Australian outdoors.
The Aero TXL Lite may offer the largest living space you will find in a Zempire inflatable tent, but surprisingly, it is also one of the most portable six-person air tents in the market. The tent's huge front awning space makes for a comfortable space out of the sun. Additionally, with full head height throughout, it provides unrestricted access to all points, including the two bedrooms. Ventilation is one of the Aero TXL Lite's strongest features. Its large mesh windows reduce heat build-up and the rear vents provide seamless airflow.
The Aero TXL Lite is one of the best-rated tents for small to medium-sized families, but quality comes at a price. If you are on a tight budget, perhaps this next Zempire tent will be a better fit for you.
What We Like:
Spacious
Compact
Full-head height
Good ventilation
What We Don't Like:
The Aerodome II Pro 6 is Zempire's strongest and most waterproof inflatable tent, and that makes it especially ideal for camping in unfriendly weather. Its large awning area can be protected in poor weather or completely opened for maximum airflow, and the door features a 360-degree zip that you can unzip entirely to fold it into a storage pocket.
Perhaps the best thing about the Aerodome II Pro 6, besides its strength, is its large skylight. You and your family will enjoy watching the night sky together as you doze off during your next outdoor getaway. 
What We Like:
Strong and durable
Spacious
Adequate airflow
Large skylight
What We Don't Like:
There's really nothing not to like
For a truly tough tent with a smaller footprint and a more compact size when packed, the Tuff Tent 7 from BlackWolf is a reliable outdoor family home away from home at a moderate price point. It features an extra tough frame and flooring but still remains easy to erect. Perfect for a weekend family camping trip.
The Tuff Tent 7 offers enough space for seven people, and is split into two rooms with a curtain divider, which can be rolled back to provide one large space for a small family. The gusseted windows can be pegged out to provide the ventilation a family in a cramped space needs even when it's wet.
What We Like:
Value for the money
Well ventilated
Durable
Guy rope pockets to allow neat pack-up
What We Don't Like: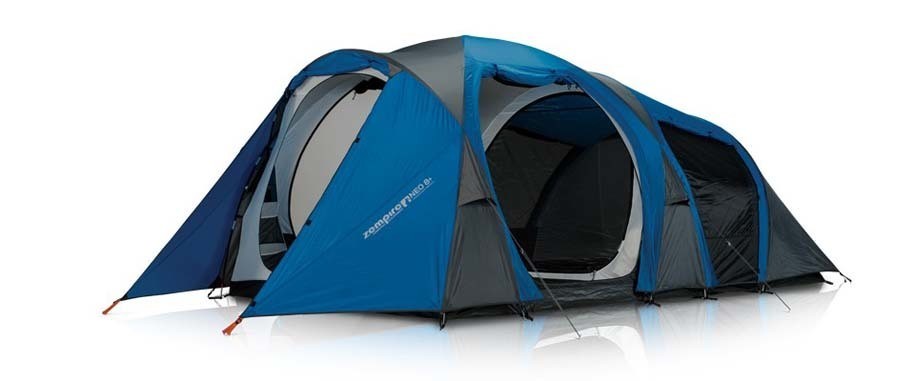 The thinking behind the
Neo 8+
design is that the living area is the most critical part of a family tent and must take priority for space. The tent features a large room for everyone to gather, and its large twin-side windows can be opened up fully on warm days for more space and ventilation.
During wet weather, the front vestibule area offers a great transition area for removing wet gear before entering the tent. When pegged down, the side zips enable you to access the tent from either side during harsh weather conditions.
What We Like:
What We Don't Like:
Like most other tents in the Colemans Gold series, the Chalet 9 CV is a mainstay of Australian camping. The tent offers the luxury of having two bedrooms and a separate central living area, and can fit a maximum of nine people all the three spaces are utilized for sleeping.
Besides the ample space, the Chalet 9 offers adequate waterproofing. It also allows superior ventilation through its large windows and mesh-roof panels, as well as Coleman's trademarked Circle Ventilation system. A skylight assists with daytime lighting and night-sky viewing, and an effective pocket system helps to keep things tidy. 
What We Like:
Spacious
Effective waterproofing
Sturdy
Well ventilated
Large skylight
What We Don't Like:
Featuring three large, versatile rooms, the massive Oztrail 10 Person Fast Frame Block Out Tent can comfortably fit ten people. The large doors on all sides of the tent give easy entry and exit, and the large side, rear and front awnings provide plenty of shade and ventilation.
Oztrail's Block Out technology, coupled with their ClimaTec air venting means that you're assured a good sleep. Couple that with the fast frame that allows erecting this beauty in minutes and there's not much to dislike about this tent.
What We Like:
Sturdy and quick to put up
Three separate rooms
Adequate ventilation and Block Out technology
Large awnings
What We Don't Like:
Relatively limited storage features
A premium tent with an affordable price tag, the Coleman Instant Up Gold offers the best balance between quality, utility and affordability.  Its instant up design is revolutionary, making setups and takedowns remarkably quick and easy, especially for a ten-person tent.
The Coleman Gold 10P shines with regards to protection against the elements, thanks to a high-quality build. However, its box-shaped design makes it more likely to catch the wind, so you will want to ensure all guy ropes are fastened correctly when you are camping in windy weather. 
What We Like:
Groundbreaking Instant-up design
High-quality build
Spacious
What We Don't Like:
The BlackWolf 240 may not have the instant-up capability of the Coleman Gold range, but it is still commendably quick to set up. The tent has a rollback curtain room divider in the middle, which zips up for a spacious communal living space. Its three huge windows and the front door screen offer excellent ventilation, and the awning, despite being relatively small, provides decent protection from rain and sun for two campers at a time.
Alloy knuckles and feet, superior waterproofing, and a strong steel-enforced centre hub make the BlackWolf Turbo Lite 240 a tough tent that will be your camping accommodation for years to come.
What We Like:
Quick setup
Quick partitioning
Excellent ventilation
Strong build
What We Don't Like:
The picture says it all. There's nothing on the market quite like Tentsile's range of tree tents. The
Trilogy 6 Person Super Tree Tent
is the perfect home base for the adventurous family.
It's actually made up of three of Tentsile's Connect 2 Person Tree Tents with the required accessories to connect them all together in the most innovative way. Considering the price of the individual Connect tents, it's also excellent value. A fine example of product design, there's nothing Tentsile haven't thought of. You might immediately see potential issues with this style of tent but be assured that they've covered all those bases, from sagging issues to access issues.
What We Like:
You're in the trees… What's not to like?
Spacious
Relatively easy to setup
High-quality design
What We Don't Like:
Costly
Obviously takes some time getting setup but we think it's worth the effort.
When buying the best tent for your camping needs, it pays to do as much research as you can. A good quality tent will last longer, have more features, offer you better protection outdoors, and save you money. It is our hope that you are now a few steps closer to picking the ideal tent for you, your family, and friends. Happy camping.
Disclaimer: The above links are affiliate links, meaning I will be given a percentage of all purchases. This doesn't mean you pay anything extra and doesn't influence the opinions I have presented in this article in any way.
Got yourself an amazing family tent? Which model did you buy? If you have any stories, updates or corrections, please let us know by commenting below.
If you're looking for ideas on where to take your next family camping trip, check out our Travel Inspiration section. Need hikes to do on your camping trip? Try The Trail Finder.