There are few pieces of outdoor equipment as necessary as hiking bags. Even outdoor adventurers going on a day hike won't leave home without a backpack, and they become even more critical for those overnight hikes where they'll be put to the test.
Whether you're a seasoned hiker or just getting started, you're undoubtedly looking for the best backpacks for hiking to hold all your essential gear, like water bottles and food. Fortunately, we've done all the leg work for you so that you can save your strength for your big trip. Here are some of the best hiking bags and what you need to know when making your purchasing decision.
Considerations for Purchasing the Best Hiking Backpack
In an ideal world, all backpacks would be made the same for all climates and situations. But that's not the case. We all like to explore different environments for different lengths of time, which means we all have different backpack needs. 
Before you get out your wallet and purchase what you believe will be the best hiking backpack, take a moment to consider the following information.
Purpose
What is the purpose of your travel? We're not travel security, but this is the type of question you need to ask yourself when shopping for new hiking bags. For example, a lightweight backpack might suit your needs if you frequently go on day trips. However, if you were to go on much longer adventures with overnight stays in remote locations, a larger, more robust backpack might be more suitable.

Size
Choosing a hiking bag size can be challenging, especially if you're not a seasoned expert. You might not know how much gear you need to carry or how much space it takes up. Consider borrowing a hiking bag to see whether you need less or more room. 
Remember, you'll need to carry a range of essentials for day and overnight hiking trips, such as cookware, a sleeping bag, shelter, food, and clothing.
Features
Some of the best backpacks for hiking boast a wide range of desirable features that make hiking a far more convenient and comfortable activity. Look out for features like waterproofing, ventilation, external pockets, top lids, roll tops, and external frames.
Weight
The weight of backpacks for hikers matters a lot. You will already need to carry a significant amount of gear for an overnight hiking trip, so why would you want to start with an empty bag that's already heavy?
It's a good idea to strike a balance between weight and durability. You want your bag's materials to last the distance, but you also don't want to carry any more weight than you need to.
Best Backpack for Hiking in Australia
It can sometimes seem like the best backpack for hiking is impossible to find, but we think we've got a pretty fair idea of some of the highest-ranking packs on the market. If you're unsure which hiking bag suits your needs the most, consider some of the following options.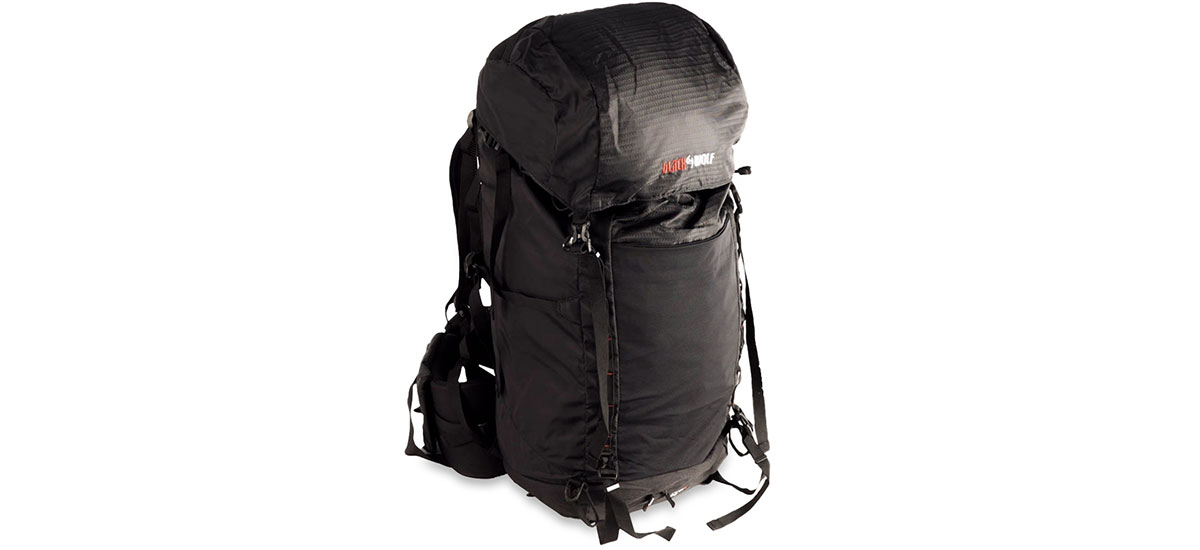 Whether you're going on an overnight hike, a multiple-day walk, or even a day hike, you'll be more than impressed with the offerings of BlackWolf. The Tarn rucksack, available in 65L and 75L capacities, is packed full of convenient features to help your hiking adventure go off without a hitch.
Enjoy complete durability courtesy of the 200D polyester and ripstop PU and the convenience of a stowaway rain cover, toggle drawstring opening and mesh water bottle pockets. These rucksacks also have comfortable foam harnesses, four attachment points, compression straps, lockable zips, and desirable extend-a-hood closure systems. The icing on the cake is the limited lifetime warranty, giving you peace of mind that you can have as much confidence in this bag's durability as the manufacturer does.
Size/Capacity: 65L, 75L
Weight: 1.8kg (65L), 2kg (75L)
In-Use Dimensions: 24 x 60 x 21cm (65L), 26 x 65 x 22cm (75L)
Materials: 200D polyester and ripstop PU
Warranty: Limited lifetime
If you're in the market for a sleek, comfortable, and modern backpack for a day trip through the wilderness, Deuter has you covered with the Aircontact Ultra 50 + 5 backpack. This lightweight backpack weighs just 1.21kg, which means you don't have to worry about a cumbersome pack holding you back.
It boasts an elastic spring-steel frame, the ever-popular Deuter Aircontact back system, and helpful features like tiltable hip fins, a removable sternum strap, mesh pockets, and a lumbar pad. This unique bag even comes with a wet and dirty gear compartment and compatibility with hydration bladders up to 3L.
The next time you start planning a day or overnight trip in the wilderness, don't look past Deuter's Aircontact Ultra 50 + 5 backpack to go on the journey with you.
Size/Capacity: 50 + 5L
Weight: 1.21kg
In-Use Dimensions: 76 x 28 x 25cm
Materials: Ripstop polyamide
Warranty: Limited lifetime

Having a lightweight backpack can be crucial for comfort, which is why this Deuter Aircontact Lite backpack might shoot to the top of your wishlist. It's available in three capacities, 40 + 10L, 45 + 10L, and 50 + 10L, none of which weigh more than 1.75kg, thanks to high-quality and lightweight materials like Polytex.  These hiking bags are ideal for extended hiking trips and have an abundance of features for experienced hikers. You can take advantage of the comfortable X-shape frame, the ergonomic hip fins for stability, the foam back for support, and adjustable back length.
These bags are also compatible with bladders up to three liters and still have enough remaining space for a wet compartment, bottom compartment, lid pocket, and valuables pockets. And if you're taking hiking poles, there are even loops for these! These bags are the complete package and even come with a limited lifetime warranty. 
Size/Capacity: 40 + 10L, 45 + 10L, 50 + 10L
Weight: 1.68kg (40L), 1.7kg (45L), 1.75kg (50L)
In-Use Dimensions: 74 x 30 x 22cm (40L), 74 x 30 x 24cm (45L), 80 x 30 x 26cm (50L)
Materials: Polytex
Warranty: Limited lifetime
If cost-effectiveness and comfort are important to you, it can be worth learning more about the Caribee M60 Phanton rucksack. Described by many as the best hiking backpack, it's a stylish military-inspired bag available in black and ochre with many standout features to impress the harshest of critics. 
It's lightweight at just 1.4kg, yet offers 60L of space for all your hiking necessities. It also comes with a reinforced structure for durability, Molle webbing attachment points for quick tool access, a sternum strap for stability, and attachment points for hiking poles. You're also bound to appreciate the convenience of the dual side bottle pockets for water and the compatibility with 2L and 3L hydration bladders.
Whether you're going on a day hike or overnight hike, you're bound to see the value this rucksack brings to the table.
Size/Capacity: 60L
Weight: 1.4kg
In-Use Dimensions: 70 x 32 x 24cm
Materials: Polyester
Warranty: 3 years
While this Mountain Designs Pioneer Technical hiking pack is not the most lightweight backpack on the market, it proves its worth in your outdoor kit in many other ways. It's available as a 60L and 70L bag, features robust ripstop polyester, and is all about your comfort on those challenging trips.
Mountain Designs pulled out all the stops with this hiking pack by including a water-repellent finish, an adjustable hood flap, adjustable shoulder and chest straps, and a pre-curved hip belt. You also benefit from hiking pole loops, a stowaway rain cover, pouches for storage, and an adjustable bar harness ladder system. 
You'll also likely be surprised by how affordable it is and how well it suits your hiking needs now and into the future.
Size/Capacity: 60L, 70L
Weight: 2.34kg (60L), 2.5kg (70L)
In-Use Dimensions: 70 x 33 x 26cm (60L), 76 x 36 x 26cm (70L)
Materials: Ripstop polyester
Whether you're camping or hiking in the great outdoors, there's every reason to consider adding this Mountain Designs X-Country Technical hiking pack to your must-have list. Not only is it a convenient option with its 55L, 65L, and 75L sizing range, but it's also lightweight, robust, and designed to make hiking and camping a far more comfortable experience.
Nearly all straps are adjustable and padded for breathability, support, and comfort, and you can even enjoy curvature in the hip belt for even greater ease of movement and comfort. All three sizes also come with daisy chain attachment systems, adjustable bar harness ladder systems, and an abundance of pockets for all your camping essentials.
You also don't have to spend the earth on this backpack, undoubtedly making it one of the best backpacks for hiking, tramping, camping, and other outdoor activities.
Size/Capacity: 55L, 65L, 75L
Weight: 2.3kg (55L), 2.05kg (65L), 2.2kg (75L)
In-Use Dimensions: 60 x 33 x 26cm (55L), 70 x 33 x 26cm (65L), 80 x 33 x 26cm (75L)
Materials: Ripstop polyester
When you need a backpack for every occasion and environment but want to enjoy the same functionality across all bags, look to Denali for the solution. The striking red and black Denali Pinnacle hiking pack is available in four sizes to suit all needs and situations: 40L, 50L, 60L, and 70L. Whether you need a day bag for a walk in the forest or a large and lightweight backpack for a week-long hike, Denali's ripstop polyester hiking bags tick the right boxes.
They boast supportive and comfortable spring steel frames, easy-opening compartments for all your essential hiking equipment, and rain covers to keep everything protected. You're also bound to be impressed by the compression straps, hiking pole attachments, and lid pocket that allows for fast and easy closure. Denali bags are also affordable, allowing you to spend more money on other hiking supplies in the lead-up to the big day.
Size/Capacity: 40L, 50L, 60L, 70L
Weight: 1kg (40L), 2kg (50L), 2.25kg (60L) 2.42kg (70L)
In-Use Dimensions: 62 x 36 x 24cm (40L), 66 x 38 x 25cm (50L), 70 x 38 x 25cm (60L), 71 x 39 x 30cm (70L)
Materials: Ripstop polyester
Warranty: 1 year
Affordability can sometimes be as important as the quality, which is why many people are so impressed with the Denali Trek 55L hike pack. While you sometimes have to sacrifice quality for price or vice versa, this backpack allows you to have both.
It boasts high-quality ripstop nylon that allows for a lightweight 1.7kg total weight and an abundance of practical pockets and features for a straightforward hiking experience. Take advantage of the stretch fabric pockets, the accessories pocket on the waist belt, and the lid pocket for tools and other small accessories. 
This bag even comes with an aluminium frame to keep your back cool and dry, a built-in rain cover to protect your possessions and an attachment for hiking poles. With comfort, durability, and affordability to the fore, you can't help but want to learn more about this backpack.
Size/Capacity: 55L
Weight: 1.7kg
In-Use Dimensions: 34 x 25 x 77cm
Materials: Ripstop nylon
Disclaimer: The above links are affiliate links, meaning I will be given a percentage of all purchases. This doesn't mean you pay anything extra and doesn't influence the opinions I have presented in this article in any way.
Got yourself a great hiking backpack? Which model did you buy? If you have any stories, updates or corrections, please let us know by commenting below.