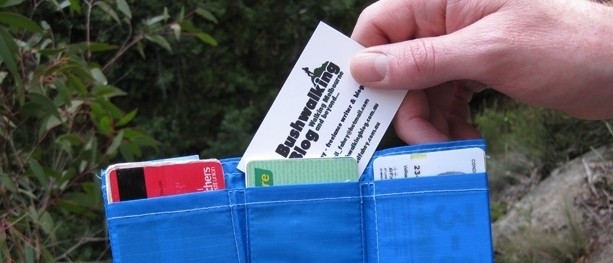 I feel naked if I don't have my wallet on me. It's a bit odd, but it works in my favour… I've never lost a single wallet.
They can be a bit annoying though… They're so heavy and bulky, getting them in and out of your pocket can be a pain, and I find that they weigh my pants down and make things generally uncomfortable. This is only amplified when I'm out hiking or doing other fun, outdoorsy stuff.
I was on the hunt for a wallet that would free me of these annoyances, that would last me a good while, and that wouldn't cost the earth, when I stumbled across the Butterfly Wallet. I've been using it for a bit more than a month now, and I'm happy to report that it's the best wallet I've ever had.
Made from ripstop nylon, it's not only water resistant, but seems as though it will stand up to a good beating. This is a very good thing when you consider that my previous wallets have been in multiple pieces by the time I've finished with them.
It will take on the thickness of whatever cards and cash you have in it, and isn't much bigger in width and height than a credit card. I doubt there's a smaller wallet available that would hold as much.
Best of all, it only weighs about 5.5 grams (when empty, of course). I guess those crazy ultra-light hikers probably don't bring a wallet out on the trail, but if they did it would be this one.
The Butterfly Wallet is available in five colours. I chose the blue because, you know, I'm weird like that, but I'm guessing most would probably go for black.
At only US$14.95 plus postage (which starts from US$3.49 to Australia), and with the promise of your money back if you're not satisfied, anyone in the market for a compact, lightweight wallet would be silly not to grab one. (The Butterfly Wallet design has now been updated, and a new version is available.)
Update (9/03/2016): Almost three years later, I'm considering updating my wallet. Not because this one has fallen apart or anything, but more because it's looking a bit rough and the pockets have stretched out a bit. I could easily keep using it for at least another year.
So here's the deal… The creators of Butterfly Wallet sent me a wallet for review, and two more to give away to Bushwalking Blog readers. As it turns out, this is a product that I feel completely confident putting my name behind, so I've joined the affiliate program. This means that Bushwalking Blog receives 15% of any sales made through the links in this blog post. None of this has any influence on the opinions presented in this review.
Win yourself 1 of 2 Butterfly Wallets (black)…
Just sign up to the newsletter for the chance to win.
The competition closes at 2pm on Thursday 15th of August. If you aren't signed up by that time, you will not be considered.
All existing subscribers will be automatically entered into the competition.
Entry is only open to Australian residents.
The draw will take place as soon as possible after the closing time.
I will assign numbers to each subscriber and use the Random.org true random number generator to choose the two winners.
The winner will be contacted by e-mail and once contacted, will be announced on Twitter and Facebook.
If I'm unable to contact a winner within 72 hours, the competition will be re-drawn.
This competition has now closed. Winners have been contacted. Feel free to sign up for the Bushwalking Blog newsletter, in order to be in the running for any future competitions.
Would you use the Butterfly Wallet? Let us know what you think by leaving a comment below.
Are you interested in more from Bushwalking Blog? You can either sign-up for the e-mail newsletter, or get updates via the RSS feed, Facebook or Twitter.