Uncommon Goods is an online shop that's been selling all kinds of original designs by independent makers from around the world since 1999. They aim to do this while making a positive environmental and social impact, which is something we all need to use our purchase power to support.
The best thing is they've got something for everyone. If you love unique, beautifully designed and genuinely useful products, it's worth heading over to the Uncommon Goods site to explore. I'm keeping it in mind for gifts for Lori (which, let's face it, are the most important gifts I ever buy) but they've got a whole bunch of collections for specific occasions, people, or personality types, like their great collection of gifts for men, or this more specific collection of unique gifts for groomsmen.
Now onto what you came here for, my 7 best finds from Uncommon Goods for outdoor adventurers.
Hydration Tracking Water Bottle
This 20 oz / 590 ml Hydration Tracking Water Bottle is made of tough Tritan plastic and features a leak-proof cap. I guess you'd hope any water bottle would be tough and leak-proof, but it's sadly not always the case.
There's more to this bottle than meets the eye, though. See those four dots on the lid? They change from green to white each time you refill the bottle, helping you reach the two litres of water per day that many health professionals recommend.
This is particularly good for anyone on the move, whether you're travelling, hiking, biking, or just working. Any time that you're likely to forget to drink enough, and especially when its most crucial that you hydrate.
Portable Camp Grill and Charger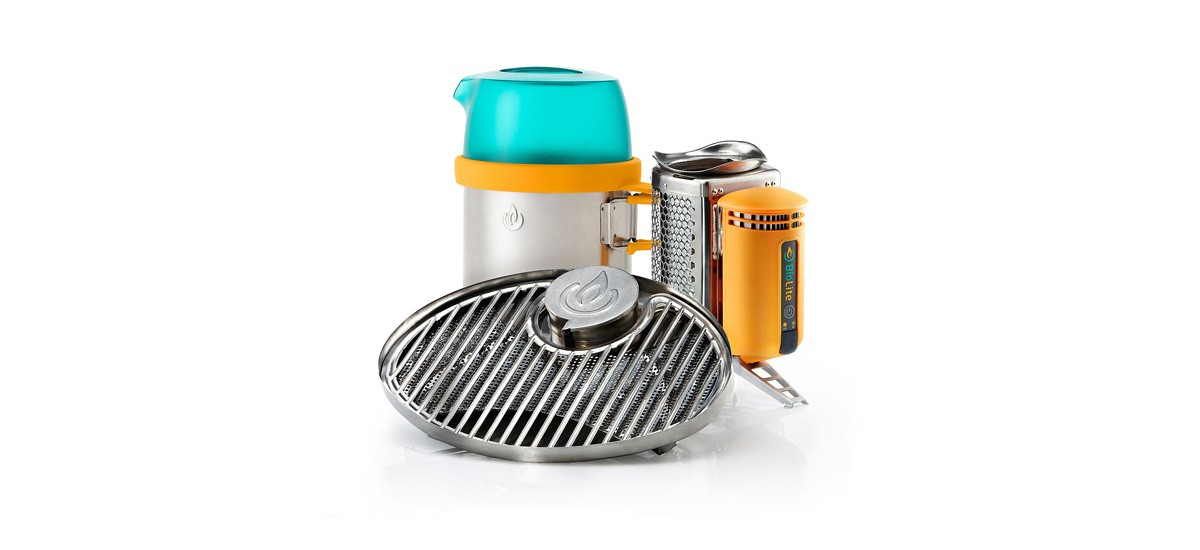 Who'd have thought you could charge your devices from your campfire? The Portable Camp Grill & Charger lets you do just that.
Whether you want to boil water, cook food, toast marshmallows, or just warm your hands, this gadget lets you use the heat from your fire to generate electricity. Use the twigs you find around camp to start your fire and it will turn waste heat from the fire into electricity via a thermoelectric generator. The USB port can then be used to charge devices like phones or iPads, or to power the included flexible USB light.
We might not quite have hoverboards yet but the future is really here. Sorry if I seem a little overenthusiastic, but I come from the "Beyond 2000" generation.
Remember that sunrise hike I told you about? If there's one bit of gear I could've benefited from on that trail, it'd be these things. They attach easily straight onto your shoelaces, to light your every step.
That's not the only situation they'd be valuable in, either. Imagine walking around your campsite at night or even going for a night time run back home in town. They could prevent all kinds of injuries.
They're as rugged and water resistant as they need to be, and are powered by rechargeable batteries which can be charged via USB using the included Y-cable (meaning you can charge them both at once from one charger).
It's a simple product but they don't come much more useful. The Collapsible Water Bottle is perfect when you're trying to conserve packing space on just about any outdoor or travel adventure.
When empty, the bottle simply collapses flat for storage. It's a little over an inch thick when flattened, so it can slot easily into any of your bags or even your pocket. It's BPA and odour free and better yet, when it needs cleaning you can just throw it in the dishwasher.
There are few things nicer than snuggling up with the one you love in a comfy hammock for two.
The Do Good Hammock fits the bill perfectly, not to mention that it's handmade by some of the few remaining Mlabri people in northern Thailand. The Mlabri were nearly wiped out when their teak forests were cut down and sold for decorative wood, but they're surviving by using their weaving skills as a new source of sustainable income.
Made from acrylic yarn and repurposed nylon, the Do Good Hammock can support up to 180 kg and is weather safe.
Unfortunately, its tree straps are an optional extra (adding about $50) but I'm sure you could rig something up for yourself that would cost much less.
Ever been walking your dog and tried to give it a drink from your water bottle? Okay, it's kind of hilarious to watch but it's also very inefficient. Enter the Dog Bowl Water Bottle.
With a quick squeeze of the bottle, the bowl at the top fills with water to give your canine friend a drink. It's leak proof (until you squeeze it) and excess can drain straight back into the bottle, so none of your precious water will go to waste.
It comes with a velcro strap that lets you attach it to your backpack, the leg of your camping chair, or to your wrist while you're walking. It holds 20 oz or about 590 ml.
Solar Powered Charger & Light
I've seen some pretty crappy solar chargers in my time, but this one looks pretty tough. Better yet, it's made from recycled plastic.
It's about the size and weight of most smartphones, and they claim it'll charge your phone in two hours. It also features a light that can shine for up to 150 hours off a single charge.
As with most Uncommon Goods products, you'll be doing some good by buying one. For each charger purchased, another will be provided to one of the many people in the world without access to electricity.
This post is brought to you by The Bushwalking Blog and Uncommon Goods. This does not influence the opinions presented here in any way.
Got another favourite from the Uncommon Goods catalogue? Tried any of these products yourself? If you have any stories, updates or corrections, please let us know by commenting below.
Exploring the Great Ocean Road?
You won't see the best sights from your car. Get the definitive guidebook, featuring the 25 best walks in the area with detailed instructions and maps.