Even when Victoria is dry, Lerderderg Gorge is still an incredibly beautiful place. While the Lerderderg River (and its tributary creeks) might not be flowing, you have the added advantage of being able to more easily traverse some of the most incredible sections of the gorge.
There are more grass trees here than I've seen in any other part of Lerderderg State Park and not a single sign of the Cinnamon Fungus that seems to be killing them almost everywhere else. Other impressive features include the narrow spur we used to descent to the junction of the Lerderderg River and Whiskey Creek, and the ruggedness of the Whiskey Creek Gorge.
I'm not sure how you'd go traversing Whiskey Creek Gorge after heavy rains but we were looking for a shorter hike in Lerderderg State Park, so considering the lack of rain we chose to cut the longer Whiskey Creek Circuit down to suit our needs. Thankfully the creek was completely dry, allowing us to cut the circuit down by a couple of hours. I'll put the details of the longer circuit in the "Need to Know" section.
Whiskey Creek is spectacular but quite taxing since for the most part, you have to rock hop up the bed of the creek. We encountered several walls of flood debris where finding a path was difficult and worst of all we had to keep reminding ourselves to stop and take in the scenery (rather than always watching our step).
This was the most rewarding part of the hike though, where you'll constantly be reminded of the forces that created the magnificent gorge. It appears to be rarely visited by humans but when you come across a bend in the creek where there aren't high cliffs, it's worth cutting corners and following the animal tracks.
We saw roos and wallabies all along the creek section of our hike but it was fascinating to see the goats which, though obviously not native, were expert at living in this incredibly wild and rugged landscape.
The most common feedback I get from readers of The Bushwalking Blog is that they "just want more hikes to do". I get it – hiking is my passion too. I do more hikes than I'd ever have the time to write about, so that's why I've decided Bare Bones Bushwalking is now a thing. Not every hike has a story I can attach to it and some I just don't get around to writing up, so in an effort to share ALL of (or at least more of) the hikes with you I'm doing this. A more simplified blog post that gives you everything you need to go and do the hike yourself. Make your own stories.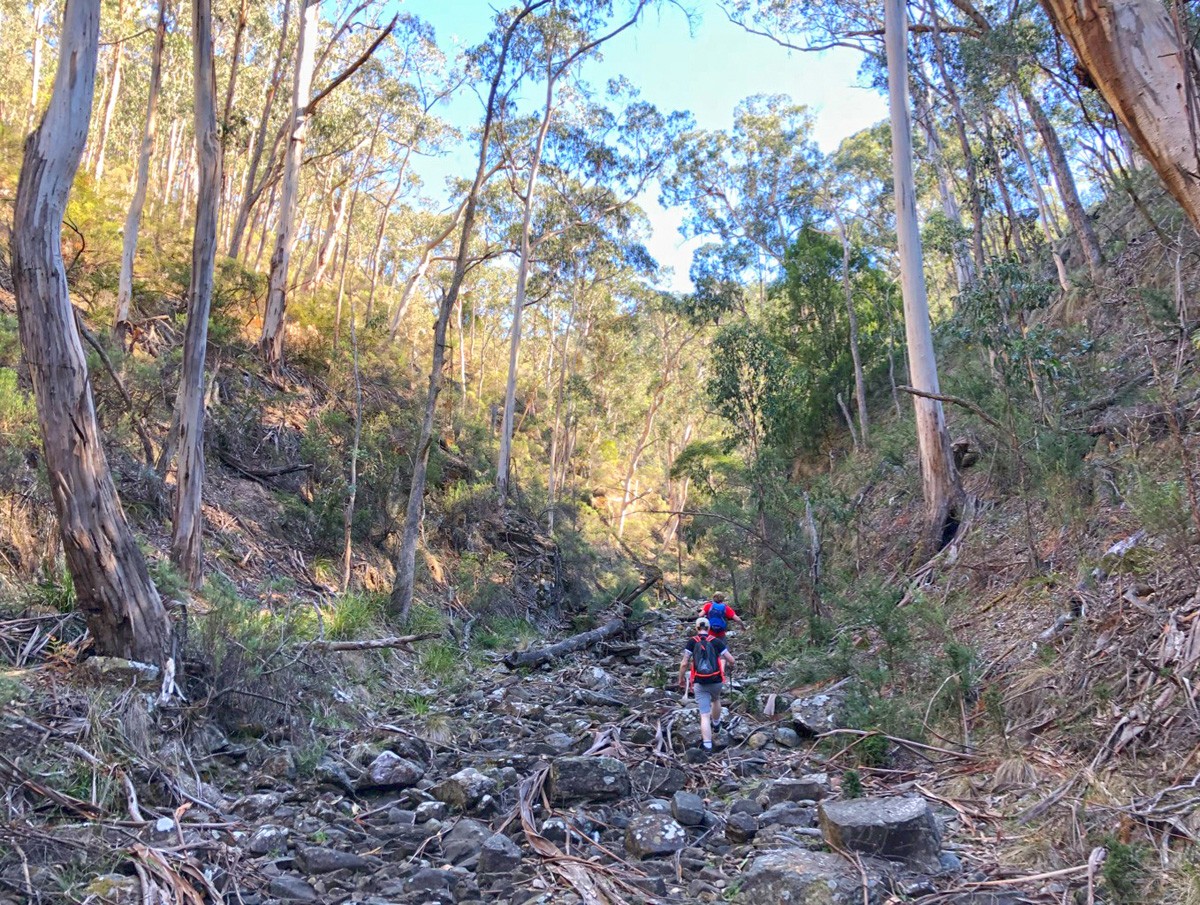 Last Visited: 2018
Length: 8 km
Time: 3 hrs 30 min
Grade: Moderate / Grade 4 (according to the Australian Walking Track Grading System).
Style Circuit
Region: Western Victoria
Park: Lerderderg State Park
Closest Town: Bacchus Marsh (20 km)
Path Taken: Square Bottle Track – Razorback Track – Razorback North Track – Junction of Lerderderg River and Whiskey Creek – Whiskey Creek – Square Bottle Track.
Car Access: From Melbourne, take the Western Freeway to Bacchus Marsh. Don't exit at Bacchus Marsh but instead continue for 9 km to the Myrniong exit. Turn right and follow Myrniong – Greendale Road for a kilometre, turning right on Mt Blackwood Road. After 8 km (just after passing Shuter Track), there's a small carpark on the right. Start walking from here on Square Bottle Track.
Alternative Routes: The full Whiskey Creek Circuit is 10.5 km / 4-5 hrs. I haven't experienced this myself but apparently this is the path you need to take (the only difference being from Lerderderg River to the junction of Whiskey Creek Track and Vodka Track/Square Bottle Track)… Square Bottle Track – Razorback Track – Razorback North Track – Junction of Lerderderg River and Whiskey Creek – Cowan Tack – Lerderderg Track – Kenworthy Track – Vodka Track – Square Bottle Track.
Map: All tracks are covered in the Parks Victoria Lerderderg State Park Visitor Guide. Meridian Maps also publish the Lerderderg & Werribee Gorges 1:35,000 map. If you're happy to use your phone as your map you can download the free Avenza Maps app (on Android, iPhone, or Windows) and purchase this one for AUD$9.99.
 
Have you visited Lerderderg Gorge? Got it on your bucket list? If you have any stories, updates or corrections, please let us know by commenting below.
Exploring the Great Ocean Road?
You won't see the best sights from your car. Get the definitive guidebook, featuring the 25 best walks in the area with detailed instructions and maps.