"Where do we stand on trekking Mount Rinjani, a volcano in Indonesia that I'm completely physically unprepared for, in order to make myself feel less dead inside?"
This is the question I pose in the group chat I've got going with my closest mates. We all have careers and kids, and we're open with each other about our mental health. It's a beautiful thing.
"Absolutely," is the first response.
"I reckon you should do it," the next.
"If it all goes badly, maybe a sacrifice to the volcano will appease the climate change gods or something at least. It's a win-win."
This seals the deal. I'm going to Indonesia.
Mount Rinjani is an active volcano on the island of Lombok. Its crater rises to around 2,640 metres above sea level, but the highest point – Mount Rinjani summit – rises a massive 3,726 metres. Within the crater are the picturesque Lake Segara Anak, and Mount Barujari (Gunung Barujari), the volcano's active cone. Trekking Mount Rinjani is a world-class adventure experience and an essential addition to every hiker's bucket list.
Update (May 2022): All trekking routes on Mount Rinjani have now reopened and can be booked now via Ali Trekking
Day One – Sembalun to Sembalun Crater Rim

"Taxi!" a local on a motorbike shouts as he passes me, laughing cheekily.
"Yes please!" I yell back.
"Wait, is there a taxi option you haven't told me about?" I joke to Awing. He just smiles and shakes his head. Awing is my guide from Ali Trekking. I'm not sure he 'gets' me yet.
I'm about half an hour into my Mount Rinjani trek, having just set off from the village of Sembalun. We've walked a couple of kilometres so far, slowly ascending through dry, grassy rolling hills and far too occasional stands of trees that provide much-needed shade. Mount Rinjani looks incredible in the distance with fluffy clouds dancing around its peaks.
It's only about 8:30am but it's hot and humid, and I'm having trouble finding my flow. I'm already sweating like crazy. It drips from my nose and my beard and mixes with sunscreen to sting my eyes. The dust from the track is slowly mixing with the sweat and sunscreen to turn my pale legs a patchy dark brown.
Soon enough we start to climb more steeply and I eventually find my groove. As we rise, I'm relieved to find that the wind starts to pick up and the temperature drops by a couple of degrees.
With every step we ascend, the views of the surrounding mountains and countryside seem more surreal. I can't wait to look down at this place from Mount Rinjani's crater rim.
********
Out of breath and with already burning legs, I descend into a picturesque valley where I find Awing lying on a rock using his backpack as a pillow. I've been pretty determined not to stop and rest so far but he just looks too comfortable, so I take off my pack and have a seat beside him.
"Steep," I comment in between my heavy breathing, pointing back down the trail.
Awing chuckles, then his face turns serious and he points up the mountain.
"Oh… Much more steeper."
I hang my head dramatically and we both have a laugh.
Once I catch my breath we set off again and I quickly see the reason for his serious face. The next couple of kilometres is a brutal climb compared to the beginning of the trail. I haven't brought along a proper hiking backpack and it's at this point that I seriously regret the decision. My pack feels far heavier than it should and it's starting to take its toll on my body.
As I power through, I'm passed by groups of locals who are on their way back to town and I'm dealt some serious perspective. Very few of them have any form of 'proper' hiking gear. Many of them are families, and kids probably as young as eight bound down the trail barely even looking tired. Their mums follow behind wearing track pants and carrying their gear in plastic shopping bags.
********
Sitting at Pos 2, I wait for Awing and Sawal (my porter) to cook lunch. Between chats with other trekkers, I read a book and periodically glance up at the ever-changing view around me as low clouds roll across the mountainside.
Pos 2 is roughly the halfway point of the ascent from Sembalun and sits at about 1,500 metres above sea level. It's a huge rest stop with a toilet block, a stall selling snacks and drinks, seven large sheltered steel platforms that trekkers either sit on or use as a table, and a large building with shelter underneath where guides and porters gather to cook.
Soon Sawal presents me with my lunch and I tuck in, fueling up for what I suspect is the toughest part of the climb. As I eat I don't notice the clouds rolling in and suddenly I'm surrounded, unable to see more than 20 meters in front of me. With the cloud, the temperature drops even further and I actually feel cold for the first time all day. Although it's a shame that there are no more views, I decide to embrace how much easier it will make the rest of the climb.
After being served two more courses (I've never eaten this much food in one sitting), it's time to set off again for the final few kilometres to the Mount Rinjani crater rim. I feel renewed from the break and the food, but the trail seems to just keep getting steeper and before long I'm taking quick rest stops every 20 metres or so. This is only made better by the fact that nearly all of the other international visitors are doing the same. We laugh together and commiserate.
"Don't mind me," I tell one group. "I'm just having an existential crisis."
More groups of locals pass me with ease, but they're so friendly and I soak up their encouragement as they pass.
"Spirit, Mister," one guy says, raising his fist in the air. "Spirit."
"You strong, Sir," a lady tells me.
I'm pretty touched, to be honest. A simple "thank you" is all I have to give in return.
By Pos 3 (roughly three-quarters of the way to the crater rim), my trekking poles are no longer an assistant to help ease the burden on my week knees. They're essential in order to keep moving. The final part of the trail is among the steepest I've ever hiked and at times I'm only taking a handful of steps before I have to stop and rest.
It's a slow and painful trudge and there are way too many false summits along the way, but eventually, I rise a crest and see the crater of Mount Rinjani in all its glory. It's unreal.
I look at Awing and take a deep breath.
"So where's camp?" I ask.
"Oh, we're just a bit further," he says, pointing at the trail along Mount Rinjani's rim.
My eyes follow his gesture and I realise there's another hill between me and camp. It's a small hill, admittedly, but still, my relief quickly disappears.
As it turns out, we're really not very far from our campsite. But when you're mentally finished, that small hill can feel just like Everest. We continue along the trail for no more than 10 minutes and we've arrived. The only remaining whinge from this privileged westerner is that, by the time we're there, clouds have blocked out any views we might have had.
"It will clear by morning," Awing tells me. Fortunately, he's wrong and we're treated to incredible views on and off throughout the afternoon and evening.
There's almost a party atmosphere at camp. Groups of locals and tour groups from all over the world, along with their guides and porters spend the afternoon chattering, enjoying the views and taking photos.
Once my tent is set up, I enjoy some privacy to have a wet-wipe bath and sit on my camp chair taking notes and photos and reading. In the meantime, the clouds clear and the crowds gather on my side of the rim to take in the views of the crater. Trekkers and guides from other groups stop by for a chat and to check out my camera. Everyone here wants to get the ultimate photo.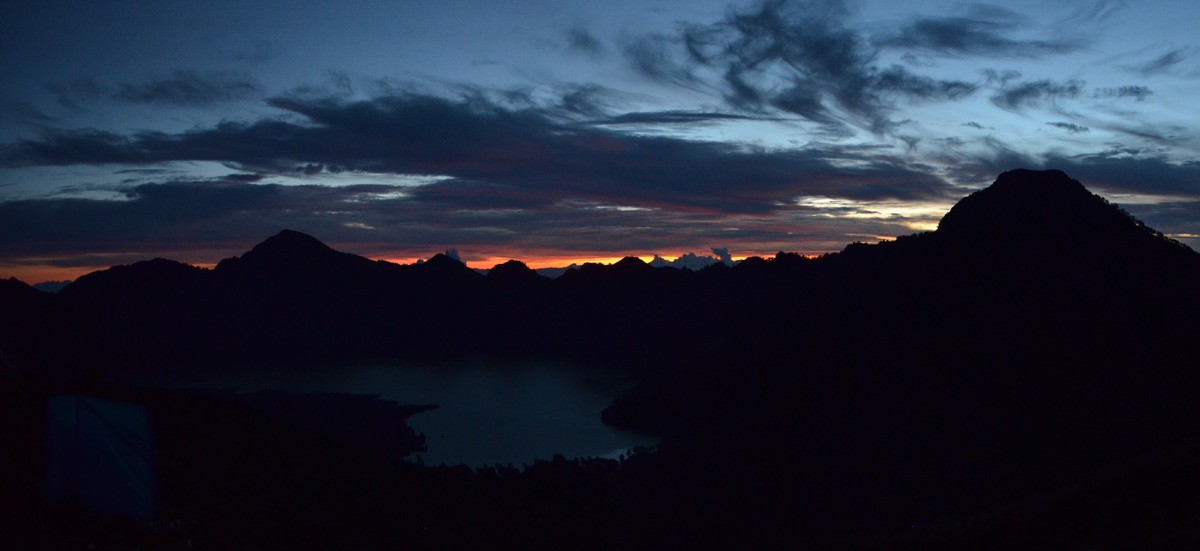 Awing and Sawal sit outside their tent preparing food and eventually I'm served up the most delicious meal. I enjoy it followed by a cup of tea, and at the crazily early hour of 7:30pm, I retreat to my tent to read and drift off to sleep.
What to Expect on Day One
Distance:
8 km
Time:
7 hrs
Ascent:
1,483 m
Day one is a shock to the system. If you've come from a cooler climate, the heat and humidity will be your first challenge. For the first couple of kilometres, the walking is relatively easy, but it ramps up in stages and the final four kilometres are something akin to torture, getting worse as you draw closer to Mount Rinjani's crater rim. Just as the landscape and vegetation get more impressive the higher you go, your views will be more rewarding too.
There's a lunch stop at about the halfway mark and if you've chosen the right tour company, it will be everything you've been dreaming of throughout the day, providing you with all the fuel you need (and more) to complete the ascent.
The toughest part of the climb is between lunch and the crater rim. I was grateful to find that, though I might have been the least physically prepared person on the mountain, I wasn't the only one who was stopping to rest every few steps toward the end of the climb.
The moment you reach the top and see that view is pure bliss. Hopefully, my photos come somewhere close to doing it justice.
Day Two (Part One) – Sembalun Crater Rim to Mount Rinjani Summit (or not, in my case)
"Mr Neil!" I hear Sawal's voice from outside the tent
I groan, "Just a second."
As I scramble to get some pants on he calls out again, so I quickly fasten my belt and open the tent zipper. To my surprise, he greets me with a big smile and nod, my breakfast is in one hand and there's a cup of tea in the other.
It might be two o'clock in the morning, but I guess my body needs it after the previous day's ascent because I happily gulp down every last bite.
I scramble out of the tent to return my dishes and Awing immediately launches into a spiel about what I need to bring to the summit. Unfortunately, I have to interrupt.
"I'm really sorry, Mr Awing, but I'm not going to the summit."
He looks perplexed, laughs, and says, "Ok, Mr Neil, we will see."
Having seen his reaction when I made mention of not going to the summit the previous day, I know I'm going to need to be polite but firm.
"Sorry Mr Awing, but it's not a case of 'we'll see'. I can't do it."
Both Awing and Sawal are giving me a weird look now. They still seem to think I'm joking.
I point up to the summit and explain, "If I go up there," I move my pointed finger to the opposite rim of the crater, "I'm not going to make it across there."
They look disappointed.
"I'm sorry but my legs are not prepared enough. I need to stay safe."
Sawal turns and continues pottering around the tent, and Awing finally softens.
"Okay, Mr Neil. You sleep."
"Yes," I reply. "I'll do some more stretching and then get some more sleep."
As I stand by my tent doing my stretches, I can see the long line of head torch lights slowly moving up the mountain in the darkness – hundreds of them, densely packed on the narrow trail. My disappointment fades a little more and I'm sure I've made the right decision.
Apparently nearly all of the domestic tourists who visit Rinjani make it to the summit, but only about half of international visitors do. It's not uncommon for people to have no desire to summit, considering how rewarding and challenging the trek is even without summiting.
What to expect on Day Two (Part One)
Distance:
5 km
Time:
7 hrs
Ascent / Descent:
1,087 m ascent / 1,087 m descent
On day two, trekkers wake up at 2am and get ready to make the final ascent to the summit for sunrise. I decided to opt out of this part of the trek but my research has given me a very good idea of what to expect (which is part of the reason I opted out).
After your first breakfast of the day, you'll set off from camp and almost immediately start climbing steeply toward the summit. If you're up for a serious physical challenge, this ascent will provide both the challenge and the reward you're looking for.
As the owner of Ali Trekking, Mr Ali, told me, "you can see all of Lombok from up there and you will feel like the king of the world."
There's no question, though, that this terrain is incredibly tough. It makes day one's ascent look like child's play. Aside from being crazily steep, most of the trail consists of trudging through extremely loose volcanic scree. On the ascent, this means it's frustrating and at times almost like taking one step up and sliding two steps back. On the descent, there are times you'd be better off sliding on your bottom.
If all goes well, you'll watch the sunrise from the summit and make it back to camp in time to have a short nap before eating a well earned second breakfast before you continue the day's trek.
For more advice on making your decision on whether to summit or opt out, as well as my reasons for opting out, see the "To Summit or Not to Summit" section below.
Day Two (Part Two) – Sembalun Crater Rim to Senaru Crater Rim (via hot springs)
With another few hours of sleep under my belt, and after my middle of the night stretching and spiky balling, I awake feeling physically and mentally strong.
To my delight, I'm served a second breakfast which I again devour despite feeling a little guilty that I haven't earned it. I help Awing and Sawal start packing down the campsite and then Awing and I leave Sawal to finish up so we can start our descent into the crater.
Since most other trekkers are either still returning from the summit or are back in their tents sleeping it off, we almost have the whole trail to ourselves. It's a nice change from the previous day's ascent.
The steep rocky descent into the crater quickly takes its toll on my knees and the stiffness in my legs starts to return. For the first kilometre or two, I barely use my trekking poles, since at times it's so steep that I have to spider climb or turn around and climb down some sections backwards.
"Maybe after hot spring, we have more power," Awing comments, realizing how wobbly I am coming down.
"I hope so," I agree, chuckling.
********
As we draw closer to the crater lake and the sun rises higher in the sky, bathing more of the crater in precious warming sunlight, we start to pass groups of locals with fishing rods.
The locals today are just as friendly and happy for a chat as yesterday's, but today I seem to be attracting more stares, laughs and general commotion. With each group it's something different that seems to attract their attention, whether it's my red sunnies, my dreadlocks, my bare legs in my running shorts, my strapped-up knee, the way I attempt to speak Indonesian, or even the way I speak English.
Anyone who knows me will know that I'm not a big fan of being the centre of attention, but here I don't have much choice. One thing I'm not averse to is having a good laugh at myself, so I quickly get used to just having a laugh with them. After we exchange a few pleasantries, most of them seem to think I'm alright.
When we finally make it to the banks of the crater lake, I'm surprised to find a huge campground packed with locals enjoying the gorgeous surroundings in all the same ways I'd expect back home – swimming, fishing, or sitting around cooking and enjoying each other's company on the lake's shoreline.
From here it's only a short stroll down the valley to a beautiful hot spring. There are locals here fishing as well but when Awing and I arrive, he seems to give them a look and they pull back to give me some space. I feel a bit embarrassed and self-conscious being the only westerner here, but I have a quick swim in the warm soothing turquoise waters and enjoy the fact that I haven't arrived here with a hundred other international visitors.
I dry off and we return to a different section of the lake, away from the main campground but still lined with tents and with locals fishing. As I pass one group they put some music on and I quickly realise it's Bob Marley. A grin spreads across my face as I wonder if their choice of artist has anything to do with my presence and as I turn to look at them, one of them waves at me and they all laugh.
Only 50 metres on, we find Sawal setting up to make lunch on the banks of the lake, surrounded by fishermen. Awing sets up a folding chair and motions for me to sit. So I sit and wait while the two of them prepare another delicious lunch, staring at the lake as small birds – maybe thrush or sparrows – flutter across the water's surface, and Gunung Barujari stands menacingly in the background letting off occasional puffs of smoke or steam.
I pull out my book to read but I don't get much reading done, distracted not only by the scene in front of me but by the loud reggae music and the occasional cheers of the locals when one of them catches a huge fish.
********
"It's only a few kilometres and 600 metres up," I silently repeat to myself, as I trudge up another steep track toward the Senaru crater rim.
The trail out of the crater gets steeper and steeper until there are regular sections where I have to hand Awing my trekking poles while I climb small rock faces so he can pass them up to me. In between there are flatter sections, many of them less than a metre wide paths with a sheer drop on my left and a cliff face on my right.
At one point I'm not concentrating on my footing and the dirt and rock below my left foot gives way. Awing lunges back to grab my arm but I manage to keep my balance. I look down and realise how badly in trouble I'd have been if I fell. I laugh, embarrassed at the lack of care I'd obviously been taking.
"You're okay, Mr Neil," Awing assures me.
With the lake fading further and further behind me, I've got a good excuse to stop regularly and sit down to enjoy the view. Awing sticks with me and we enjoy each other's company. I feel like we've bonded over keeping me alive.
By the time I'm nearing the crater rim, it feels like this climb has been longer than yesterdays.
"Slowly, slowly," Awing seems to repeat over and over. "We have time."
********
We reach the Senaru crater rim and join a group of guides and porters at a nice rocky ledge overlooking the crater. While the east side of Mount Rinjani is completely clouded in, we can still sit and enjoy views back from where we came.
Realising that the only way to go from here is down, I feel an overwhelming rush of emotions as I sit taking in the enormous crater, the sun glistening off its lake and puffy clouds dancing all across the mountainous peaks surrounding it.
I've barely had time to catch my breath when Awing approaches with a question.
"It's only one o'clock," he remarks. "Do you feel like you can keep going?"
I look at him, a little shocked.
"You don't have to," he continues, "but if you like we can camp in the jungle tonight and finish more early tomorrow."
I look around at the rocky crater rim. With the thick clouds, it's hard to tell how nice a spot this will be to camp. I'm also not sure if the clouds will clear. The thought of camping in the jungle sounds pretty nice, too.
"Ayo!" I say. Standing up and donning my backpack, I suddenly feel strong again. "Let's do it."
Beginning the steady descent I feel like a million dollars but as the track becomes steeper and slipperier, my body's limitations become clearer and I slow down. The first section of the descent is mostly treeless. The views would be incredible if not for the thick cloud.
Before long we descend into the jungle and the cloud no longer matters. It only adds to the feeling that this is real jungle. The slippery, sandy track slowly becomes firmer and damper and the thick tangled tree roots form a natural staircase.
It can't have been more than an hour and a half when we reach a small campsite, surrounded by dense jungle, thick with palms, ferns and vines.
"We camp here tonight," Awing informs me.
It's beautiful here but I feel like I can still keep going. The thought of shortening tomorrow's trek is definitely an attractive one.
"Is there somewhere else we can camp if we keep going for a couple more hours?" I ask.
Awing and Sawal both laugh. Awing nods, smiling. He seems impressed, which is a far cry from when I told him I wouldn't be summiting.
"Just let me do some stretches and we'll go."
While I stretch, a couple of trekkers come along with their guide and Awing gets chatting to him. As I lift my backpack again he comes back over to me and tells me we're going to camp with his friend at Pos 2.
We set off again and quickly descend another 500 metres or so. It seems like no time at all before we reach Pos 2 and are setting up camp. I enjoy the sounds of the jungle and eat dinner as darkness sets in, then I retreat to my tent for another wet wipe bath and another early night.
What to expect on Day Two (Part Two)
Distance:
6 km
Time:
6 hrs
Ascent / Descent:
600 m ascent / 600 m descent
On day two you'll trek down from the crater rim to Lake Segara Anak, take a short detour to the hot springs, have lunch on the shores of the lake, and then ascend the other side of the crater.
The ascent and descent are tough but if you're fit enough to have summited, they shouldn't be a problem. If you decided not to summit due to your fitness level, you'll probably be glad by the end of day two that you didn't.
The hot springs are stunning and make the perfect way to break up a tough day of trekking.
If you've been reading my story above, you'll see that (since I didn't summit) I completed this route earlier than intended and was given the option to continue on and knock over some of day three's trek. You may or may not be given this option, depending on your guide and of course on how you're travelling at this point (so that's why I'm not covering that part of my day two in this summary).
Day Three – Senaru Crater Rim to Senaru village
I rise with the sun for another delicious meal in the jungle. Once again I eat far more than I should and return my dishes to Awing and Sawal with apologies that (again) I couldn't eat it all, then I sit with my book and try to relax and enjoy the beautiful surroundings of the Senaru Jungle.
But I have itchy feet. I'm exhausted after two full days of trekking and I'm painfully aware that, having finished a fair chunk of today's trekking yesterday, I'm so very close to sitting by a pool at my Senggigi hotel with a beer in my hand.
"We have about three hours more," Awing tells me.
"Ayo?" I ask.
"Up to you," Awing says, laughing at my eagerness. I think he's pleasantly surprised.
We don our backpacks one more time and set off down the muddy jungle track. With lots more stretching and a good night's sleep behind me, I'm feeling good again. Awing notices this and sets the pace. I think he's just as keen to get down the mountain as I am.
Naturally, it's not long before my legs start to stiffen again but it's mind over matter and I feel like nothing can stop me. Each time Awing stops and asks if I need to rest, I politely decline without even a pause. My body is telling me a rest will actually do more harm than good, so there's only one thing for it. Keep going.
An hour after leaving camp, I'm shocked to see sunlight down the thick trail of jungle canopy and I quickly realise I've reached the Senaru trailhead. I approach the archway in disbelief and when I pass under it, I put my backpack down and a smile spreads uncontrollably across my face.
Awing says something to another guide in Indonesian, pointing at me. The guy smiles and catches my eye.
"Are you even human?" he asks.
All I can do is laugh. If I wasn't already proud of myself, I sure am now.
Sawal takes a photo of Awing and I and then I thank them as sincerely as I can, given our language barrier.
"Oh," Awing interrupts. "Now we must walk half an hour more to the car."
I laugh and put my backpack on once again, and off we go. I could almost skip my way back to the car now, though, knowing not much could go wrong. I've done it.
Mount Rinjani has given me so much, but far from becoming the sacrifice I thought I might be, I've given back very little (take that, climate change gods).
What to Expect on Day Three
Distance:
8 km
Time:
7 hrs
Descent:
2,040 m
The best thing about day three (at least for me) is that it's all downhill from the Senaru crater rim to Senaru village. You'll start trekking on a steep, dry sandy trail that's quite slippery in some parts which can make for slow going and a higher risk of injury. Views from this part of the trail will be spectacular if you're not clouded in.
Once the trail descends into the jungle, it becomes less slippery (provided it hasn't been raining heavily) and easier to traverse thanks to the tangled tree roots forming a natural staircase. The flora and fauna on this section of the trail is spectacular, and you'll likely see long-tailed grey macaques and ebony leaf monkeys. The former will eat out of your hands or your tents and backpacks if you're not careful (do be careful if you haven't had your rabies vaccination). The latter can apparently be quite aggressive, but they prefer to keep their distance.
Should I trek Mount Rinjani's summit?
Since you're reading about my experience, it's helpful to understand where I'm coming from fitness-wise to give you some context. I've done some serious hiking in the past but since family life became my priority five years ago, my fitness, strength and agility have all gone south. I also tore the meniscus in my right knee
hiking the Larapinta trail
, but that was three years before the trek.
I only decided to take on Mount Rinjani eight weeks before I found myself at the trailhead. I trained as much as I could, but my training was plagued by injuries and lack of time. I'd come a relatively long way by the time I started trekking but I was still seriously physically underprepared. Your experience might be completely different depending on your physical condition, so keep this in mind as you read on.
Before making your decision you'll need to be aware of exactly what's involved in summiting Mount Rinjani. Before you even arrive at the summit's base camp, you'll have either already completed a long day's ascent or two days of ups and downs (depending on where you chose to start). Unless you're ultra-fit, you're going to be starting the toughest part of the ascent significantly fatigued.
Summiting from the Sembalun crater rim involves a 1,087 metre, two-and-a-half-kilometre ascent on a steep rocky trail through volcanic scree, starting at around 2:30am. The loose scree makes progress slow since with each step you'll tend to slide slightly back. When you finally reach the top, you'll have ample time to rest but then you'll descend via the same path back to the crater rim. You might assume descending will be easier, but it's about as steep and slippery a trail as you'll find on any popular tourist route. The danger of injury is very real, but at least you'll descend in daylight.
Still, your trek won't be finished. Again, depending on where you've chosen to start your trek you'll have either a full day's descent ahead of you or two more full days traverse.
The summit will be the challenge of a lifetime for most, but the 360-degree views of Lombok and as far as Bali's Mount Agung will be a sweet reward.
Also worth considering is the fact that you'll be ascending with anywhere from 50 to a couple of hundred other trekkers. When I looked up from base camp at the massive stream of headtorch lights flowing up the trail to the summit, I felt justified in my decision to go back to bed. Having completed the trek now, I don't regret my decision because the rest of my three-day experience was so worthwhile. I don't think I'd have enjoyed it as much if I'd summited.
Having said that, if I were significantly fitter I would have, without a doubt, summited for the challenge.
Some tour packages don't include the summit so if you're undecided on summiting, it's worth the small extra cost to do a summit tour so that you can leave yourself the option. Choosing not so summit didn't detract from my experience but if I'd decided I was physically able to summit, I'd have been very disappointed had I ruled it out before leaving home.
How many days should I spend trekking Mount Rinjani?
I can only speak for my three-day Mount Rinjani trekking experience, but Ali Trekking (and most other tour companies) offer tours from two to four days.
If you are super fit, focused on summiting, and limited in time, a two-day experience may be a good way to squeeze this into your trip. Conversely, if you're extremely unfit the four-day option might be better for you. I was very happy with my three-day experience.
Should I start the Mount Rinjani trek from Senaru or Sembalun?
If you choose the two-day tour you won't have any choice but to start and finish at Sembalun. I should mention that this will mean missing out on the stunning Senaru Jungle section of the trek.
With the three and four day tours, your starting point can be a tough choice. When Mr Ali from Ali Trekking asked me where I'd prefer to start, I answered with a question.
"Which one is easiest?"
Mr Ali looked puzzled. "No. Not easy. Just different," he said.
I started my trek from Sembalun, which means I can't tell you if starting from Senaru would be easier and I can only theorise about whether either starting point would have been in any way better. Here are some thoughts that might help you decide…
Summiting – If you're keen to summit, it's worth considering that you'll summit on day two if starting from Sembalun or day three if starting from Senaru. Consider how fatigued you'll already be before you summit.
The Senaru Jungle – is between Senaru and the Senaru crater rim. It's one of the most beautiful parts of the trek but I'm not sure if it really matters whether you experience this on your first or last day.
The views – are best between Sembalun and the Sembalun crater rim but again, it probably doesn't matter whether you experience them on the first or last day.
The ascent – is 2,040 metres from Senaru to the crater rim, or 1,483 metres from Sembalun to the crater rim. I'll leave it to you to decide whether you'd rather ascend or descend the bigger one. The climb from Sembalun starts off quite gently but finishes with a very steep section, whereas from Senaru it's pretty consistently steep all the way.
Sun exposure – There is little shelter between Sembalun and the Sembalun crater rim, whereas the trail between Senaru and the Senaru crater rim is quite sheltered for most of the way.
Why you should trek with Ali Trekking
Ali Trekking is an officially registered tour company for Mount Rinjani, and aside from my tick of approval, they have a whole string of positive TripAdvisor reviews to prove how awesome they are.
They offer a number of tour options from two days to four days, starting from either Senaru or Sembalun, and either summiting Mount Rinjani or just exploring the crater rim, or the rim lake and hot springs. I was on the "Summit Rinjani 3D2N Sembalun" tour but chose not to summit Mount Rinjani.
Ali and his guides and porters (at least the guide and porter I met) are friendly, helpful and accommodating. Aside from their support and company during the trek, they offered to take me to Sendang Gile and Tiu Kelep Waterfalls when we finished earlier than expected.
Whichever option you choose, here's what will be included in your tour price:
An experienced and knowledgeable guide (Awing had trekked Rinjani at least once a week for 20 years – well over a thousand times).
One porter per person.
Tent, toilet tent, mattress, pillow and sleeping bag.
Breakfasts, lunches, dinners, drinks and snacks.
Pickup from Lombok International Airport.
A night's accommodation before the trek (mine was at Pondok Guru Bakti Cottage in Senaru).
Hiking sticks, gloves, and jackets for rent if you can't bring your own.
National park entrance fee.
A boat ticket to the Gili Islands (should you want to explore further or just relax after your trek).
Most importantly (and I'll elaborate on this further down the page), they do their best to minimise their environmental impact on the mountain.
Feel free to do your own research but do be wary as there are many unregistered guides, as well as guides who won't provide enough food (or high-quality food), won't provide transfers or accommodation before the trek, or that just won't come through with what they do claim to offer.
How much does it cost to trek Mount Rinjani?
Since prices will change over time and currencies can change even more rapidly, I'll just say that at the time of booking (May 2018) my three-day, two-night tour was worth around AUD$250.
Aside from your tour costs, here's what other costs you'll need to consider:
Flights and transport costs – obviously these will vary broadly.
A tip for your guide and each of your porters (one porter per person in your group). It wouldn't hurt to tip the driver for your transfers, too (if they aren't already your guide or porter, obviously). AUD$20 each should is a good minimum but if you can afford to, by all means, tip more. The way I look at it, a small amount to me could be making a significant difference to them. Plus, they work incredibly hard.
Travel insurance is essential on a trip with such a high risk of injury. Mine cost me AUD$40.
Gear – purchase your gear well ahead of time if you can, especially if buying trekking shoes or boots. These need to be well worn in before you even think about taking on a trek like this.
Accommodation – Your accommodation will be covered the night before your trek but I advise booking yourself a couple of nights somewhere after your trek. There's beautiful accommodation all over Lombok that is really affordable. I spent about $35 a night and was very happy with what I got. While I visited Senggigi, I've heard that Kuta (Kuta in Lombok, not Kuta in Bali) may be nicer.
From Australia, it's possible to make your way to Lombok cheaply at certain times of the year. If you can do this, it'll make the experience of trekking Mount Rinjani pretty affordable.
What gear will be provided?
With Ali Trekking you'll be accompanied by a guide (obviously) and a porter who will carry all your food, water, cooking and sleeping gear. Aside from that, here's what else will be provided:
Folding chair.
Toilet tent.
Tent.
Rubbish bags.
Comfortable, self-inflating sleeping pad.
Camping pillow (not the best but I combined it with a bundle of clothes and it did the job).
Sleeping bag.
Everything else is up to you to bring and carry for yourself. I won't claim this is a complete guide but this is everything I brought that I actually used, and everything I imagine I'd have used if I'd summited. I can't actually think of anything I wish I'd brought, so I probably did pretty well.
A good backpack (as you need to carry quite a bit of gear, I suggest a proper hiking pack with a hip belt – I did not bring one and regretted it).
Layers of clothing:

Thermal base layer (top and bottom).
Shorts.
Long pants (not lightweight hiking pants but something sturdier to protect your legs from the volcanic rock en route to the summit).
T-shirts (merino wool if you have them or can afford to buy them).
Merino jumper.
Outer wind/rain shell.
Sun hat.
Beanie (Warm hat).
Scarf and gloves (obviously not essential but know yourself – it's going to be cold so bring what you think you'll need).
However many changes of underwear/t-shirts you're comfortable with over 3 days, knowing you'll have to carry them yourself. I changed my shirt and underwear every day (actually on arrival at camp each night, wearing them into the next day) which I loved, but at worst you could wear the base clothes every day if you prefer.

Hiking boots/shoes.
Swimmers and trek towel for thermal spring.
Trekking poles.
Sunglasses.
Earplugs.
Eye-masks.
Silk sleeping bag liner.
Power bank.
Camera & spare battery.
Phone charging cable.
Camera charging cable/charger if it can be charged off the power bank.
Notepad and pen.
Book or something to read.
Toiletries (toothbrush, toothpaste, deodorant, moisturiser, wet wipes, sunscreen).
Headlamp & torch.
One or two plastic bags for your own rubbish.
Sunscreen.
Hand sanitizer.
First aid/medications (your guide will bring supplies but if you're anything like me you'll want to be able to provide for yourself):

Necessary personal medications.
Anti-nausea medication (eg. Maxalon).
Diarrhoea medication (eg. Imodium).
Ibuprofen.
Tissues.
Bandages.
Band-aids.
Antiseptic cream or wipes.
Athletic tape.
Where will I camp on Mount Rinjani?
The campsite on night one of my Mount Rinjani trekking experience was on the Sembalun crater rim. Here most people camp on a flat(ish) section of the rim which ranges from maybe 25 metres across to 15 metres in its narrowest parts. Unfortunately, there's no option to camp away from the hordes of trekkers here (except for carefully choosing your tour dates, but even that's a gamble) but chances are you'll end up with the most incredible view through your tent door.
On night two of my trek I was supposed to camp at the Senaru crater rim, which was very similar but from what I could see through the clouds, not as flat. As you might have read above, I opted to continue on to a campsite in the jungle which was incredible (read about it above if you haven't already).
The campgrounds have no facilities, but your guide will provide you with a toilet tent and a hole in the ground.
Before my trek, I didn't do much research on Ali Trekking specifically, but what I did come to expect from all the blog posts and articles I read was that breakfast on the trek would consist of dry crumbly banana pancakes each morning, and that 'bland' would be a valid adjective for nearly all of the food. I also expected that I'd have to bring a lot of my own snack food to get me through each day's trekking.
The reality with Ali Trekking was much different. I did receive a banana pancake for two of my three breakfasts, but they were amazing and on the last morning, my banana pancake was accompanied by an omelette and a fruit platter.
Here's an idea of some of the other food (and drinks) Awing and Sawal from Ali Trekking had to offer me over the three days:
Rice, tofu, a chicken wing and some tasty stir-fried vegetables.
Laksa style noodle soup with veggies and a hard-boiled egg (almost every meal in Indonesia comes with at least half a hard-boiled egg).
A breakfast burger with hot chips.
Fruit platters with most meals and your choice of fruit at any rest stop.
Chocolate bars will be pushed on you at every opportunity.
Cans of soft drink were not so much offered but they were there if you asked (or maybe I just asked before they could be offered – probably because I was hanging for a beer). Speaking of which, there were stalls selling Bintang around the Sembalun rim on the first night (which would be the last night if you started from Senaru). I was satisfied with a coke so I didn't partake, which was probably a very good decision.
When's the best time to climb Mount Rinjani?
May to November, during the dry season, is obviously the best time to visit weather-wise. You really don't want to attempt this trek during rainy periods, because the trail is treacherous enough when dry.
Ali and Awing from Ali Trekking both recommended May as the best time to complete the trek because the weather is good and the swathes of tourists have not yet flooded the mountain. While it was July when I visited, the consensus among the guides I met on the trail was that I visited on a quiet day. I can see how there could have potentially been many more people camping on the Sembalun Crater Rim on the first night of my trek. There were very few points along the trail where I felt any sense of solitude (despite starting my day two trek before most other people), so that's probably something you should expect and just plan to minimise the chances of.
With lots of domestic tourists on the trail, it's probably worth attempting to avoid visiting on a weekend.
If you're looking for something even more special, Mulang Pakelem is an annual Hindu ceremony that's been performed at the crater lake (Segara Anak Laut) since the 18th century when the Balinese invaded Lombok. This ceremony is performed multiple times throughout May so it might be worth planning your trip around it (Google or ask around for more specific details). Hundreds of Hindu pilgrims, dressed in white, will trek to the lake to sit and pray.
When was the last Mount Rinjani eruption?
Mount Rinjani's has been active for the entirety of the region's recorded history, with its first eruption on records happening in 1847.
A spate of activity from 1994 to 1995 resulted in further growth of Rinjani's cone and its naming as Mount Barujari (Gunung Barujari), which literally translates to 'New Mountain'. Barujari actually looks like its own volcano, rising from the banks of Rinjani's crater lake (Segara Anak Laut) and giving off an almost constant plume of volcanic smoke.
Awing, my trusty guide, told me its last eruption was last year and that he was guiding a German couple through the crater at the time. My research tells me that it was actually in 2016 but coming from someone who has completed this trek somewhere around 200+ times you can see how he might have remembered wrong.
"Did you run?" I asked him.
"The German's, they run," he said. "But I know we are safe."
I thought to myself at the time that Awing's walking may not have been much slower than the German's 'running away', but the point is that he wasn't very worried. With all his years of experience and his general vibe of unreserved honesty, I'd be inclined to trust him that they were in no danger.
News reports from the time suggest that many tourists actually hid from authorities who were trying to evacuate them from the mountain, so obviously there were a lot of people who didn't feel as though they were in too much danger.
Silk Air operates flights from Singapore, while Garuda and Air Asia fly from Kuala Lumpur to Lombok International Airport. Domestic flights also land here from various Indonesian locations.
The cheapest option I found was the very long route from Melbourne to Kuala Lumpur and on to Lombok International Airport, which was a ridiculously long journey but saved me about AUD$1000.
If coming from Bali, there are also public ferries (which I don't recommend) or fast boats. Detail and prices on these trips will vary, so it's best to do your own research.
Once on the island, pick up from Lombok International Airport or from any Lombok accommodation is included in your Ali Trekking package (and most good tour companies will offer the same).
I haven't mentioned anything about this before now because the rubbish didn't ruin my experience of Mount Rinjani, but now that I've told you all the good stuff, there's something we need to talk about. Indonesia has a problem with rubbish. Mount Rinjani probably isn't the worst example of this – the beaches are – but I wouldn't feel like I was being honest about my experience if I didn't bring it up.
From my experience, it seems to be a problem that's mainly caused by locals and domestic tourists, not by tour groups, but litter on this trail is a very real issue. Driving through the streets of Lombok you'll quickly notice that there aren't systems put in place by the government to deal with waste. The most common solution is to burn piles of plastic and paper in the streets, but as you can imagine the people are fighting a losing battle even doing this.
So it's no surprise that on Mount Rinjani, there's litter everywhere. Before setting up camp, Awing and Sawal had to gather the rubbish into a pile and set fire to it. As such you quickly grow used to the smell of burning plastic and it's not long before your eyes start to filter out the rubbish and see the beauty you're surrounded by. It's really sad but it's going to take a lot of work, firstly to clean it up, and secondly (but most importantly) to change the culture of carelessness among local people. It needs to start with the government.
The main thing you should focus on doing is not contributing to the rubbish on Mount Rinjani. Obviously, minimizing your rubbish can be hard as you'll be provided with packaged foods and bottled water on your trek. What you can do is make sure you bring along some bags to carry your trash out and if you have room, carry out some extra. You can't be sure what happens to it after you bring it back to the rubbish bin at your hotel, but at least it won't be leaving it on the mountain. Probably even more important is that you endeavour to use a tour company (like Ali Trekking) that will carry their trash out, too. I didn't find any companies that advertise this as something they do but you can always ask.
Beyond that I haven't managed to find any conservation organisations specifically targeting the rubbish issue in Lombok but if you know of any leave me a message in the comments below.
Last visited:
2018
Length:
22km (Day 1: 8 km / Day 2: 6 km / Day 3: 8 km)
Time:
3 Days (Day 1: 7 hrs / 6 hrs / 7 hrs)
Grade:
Difficult
Style:
One-Way
Region:
Lombok, Indonesia
Park:
Rinjani National Park
Map:
I recommend undertaking this trek with a guide, so no map is necessary. However,
this map from Ali Trekking
gives a good general overview of what's involved.
Further Info:
A high level of fitness is required to complete this trek, particularly if planning to summit Mount Rinjani. For much more detailed information, read the lower sections of this article and the "What to Expect" sections further up.
Disclaimer: I was a guest of Ali Trekking on the Mount Rinjani tour. This has no influence on the opinions presented here.

Have you had your own Mount Rinjani trekking experience? Are you adding it to your bucket list now that you've read this? Let us know by commenting below.