There aren't too many things that'll get me out of bed at 2am, but watching the sunrise from Bali's Mount Batur was one of them. I was so glad I made the early start.
This wasn't my first mountaintop sunrise but it was definitely the most spectacular. Not everything I'm about to say about this adventure will be positive but I figure I'll start positive because looking back, it's still one of my favourite travel experiences so far. It's absolutely still one to add to your Bali bucketlist.
After hiking in darkness without much awareness of what surrounded me, it's hard to describe the feeling when those first rays of sunlight started lighting up my surroundings – the imposing silhouette of Mount Anggun, Mount Rinjani behind it, Lake Batur in between, and the crater of Mount Batur on the other side. The last 10 or 15 minutes of the trek – where the volcanic scree sometimes makes you feel like you're going nowhere – was the biggest challenge, so reaching the temple at the summit was quite the feeling of achievement. As much as I'd rather have had the summit all to myself, the solidarity among trekkers was one of the highlights for me. I loved sharing the joy with strangers from all over the world. Someone even taught me the 'hypothermia dance' – I'm not sure if that's actually a thing, but I know about it now nonetheless.
At only 3.4 kilometres each way, you wouldn't think this could be a very challenging hike, but the trail is quite steep in places. You'll need your hands free to pull yourself up some of the rockier sections. On the day of my visit, there were hundreds of other hikers. This meant the trail was basically one big traffic jam and we basically spent more time resting than hiking. As you can imagine, it isn't the most pleasant way to hike but we didn't need to worry about rest stops. If you're lucky enough to go at a quiet time (I'm not sure when that would be) you'll probably find it more challenging, as you'll be more inclined to tire yourself out by climbing too fast.
At the summit, guides seem to be happy to give you as long as you want, but even once we were fully bathed in sunlight the wind up there made it ridiculously cold. When our group's consensus was to start the descent, I was more than happy to join them. Descending the rocky scree is interesting… I adopted a sliding motion for much of the first section of the descent. You do need to be careful though, as I saw lots of people falling over. For the most part, the injuries were minor, but as I returned to the carpark there was an ambulance speeding up the mountain.
Once off the summit, things warmed up and I needed to remove some layers. This was when our guides decided to serve us breakfast (we did see other groups getting breakfast at the summit). Breakfast consists of hard-boiled eggs and plantain sandwiches. I'll be honest… It was average at best, but everyone on the mountain seemed to be eating the same thing and I was so hungry that I'd have eaten anything.
After breakfast, we had one more quick stop on the crater rim where a group of monkeys were sunning themselves and enjoying a feed from the tourists. I stayed well back (no rabies for me, thanks) but got some nice photos. Then it was time for the final descent. After some time making our way down slowly and stopping constantly to regroup, I asked the guide if I could go ahead and he was fine with it. I was very happy to be able to go at my own pace, grab a drink at the bottom and wait for the guides to come down with the stragglers. I opted to skip the coffee plantation visit that was included in my tour price and my driver was happy to take me straight back to Ubud. I was back at my accommodation for a swim by 11am, just in time to head for the day with the family. Mount Batur makes for the perfect day trip from Ubud (or if you leave early enough for sunrise, the perfect half-day trip).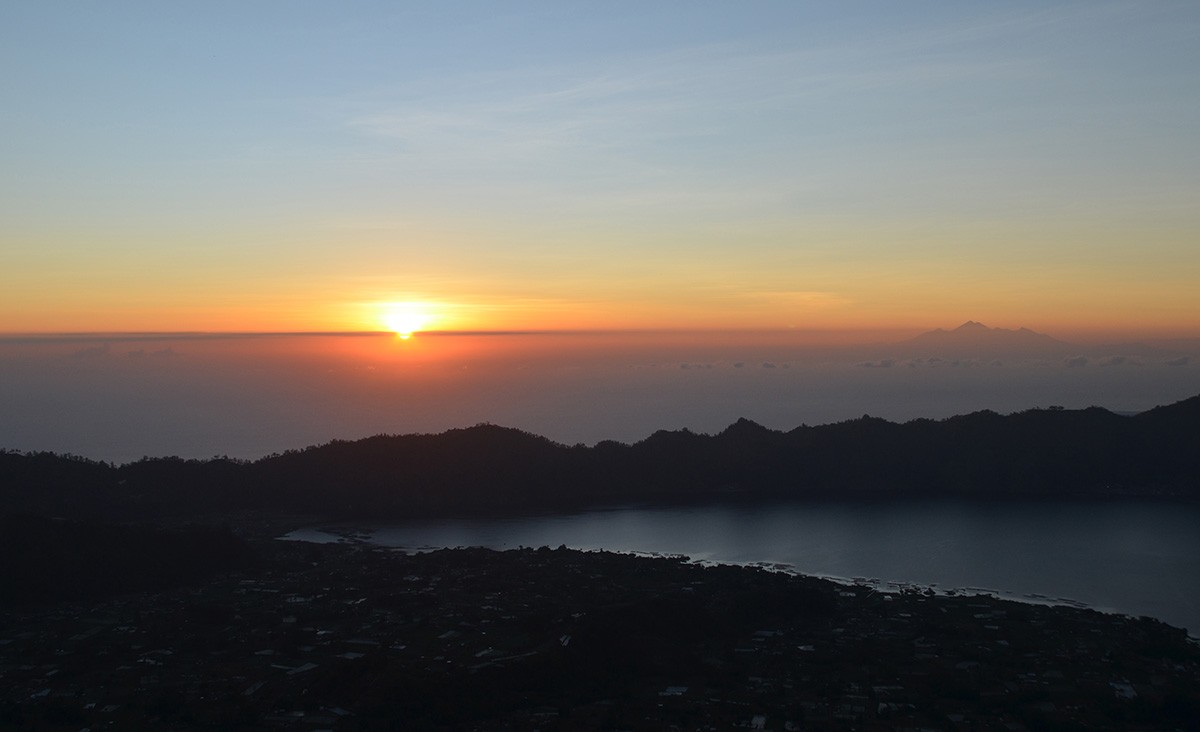 Book your tour online via Klook for $46 (price was correct at the time of publishing)
Last Visited: 2019
Length: 6.8 km
Time: 5 hrs (2 hrs up, 1.5 hrs back + time to enjoy the sunrise)
Grade: Moderate
Style Return
Region: Bali, Indonesia
Access: While it is technically possible to arrange to do the Mount Batur summit hike without a guide, I really don't see the point. Chances are you will be surrounded by just as many people whether you have a guide or not and the guides are pretty flexible anyway. Without an organised tour, you will need to pay a fee on the road into Gunung Batur carpark and then you'll also need to register and pay another fee at the carpark. You will also be hassled along the trail by locals who don't like foreigners hiking without a guide (there are plenty of "Mountain Mafia" stories online for your reference). When the fee is so low anyway, why be a tightarse?
I booked online through Klook, which meant I could plan the trek in advance and have my pickup from Ubud all sorted (they can pick up from other parts of Bali too).
Have you trekked Mount Batur for sunrise? Got it on your bucket list? If you have any stories, updates or corrections, please let us know by commenting below.