No matter how far you plan to travel or how long you plan to be gone, there's no better pack than the Osprey Farpoint.
Osprey's product video makes a bold claim, so it was down to a weekend up in the high country of Tasmania to run the Farpoint 55 travel pack through its paces. My experience with travel packs began a few years ago with a three week backpacking trip to Borneo. Our plan was to cover most of the Malaysian side of the jungle island and with multiple flights and most other modes of transport, a hiking pack wasn't going to cut it, so a travel pack was the answer.
Since then I'm sold on travel packs for trips that don't involve extensive hiking and tenting because for the short carries from airport to terminal, or from station to accommodation being able to carry gear on your back instead of lugging it over one shoulder or dragging it over uneven ground just makes sense.
Osprey claims the Farpoint (for men) and Fairview (for women) to be the perfect companion for the long weekend, and to celebrate the end of teenager number one's exams we tossed our gear into the back of the Hilux and headed south into the highlands beyond mobile reception to explore and search for aquatic highland gold (aka Tasmanian brown trout that take on the golden colour of the lake bottoms they haunt).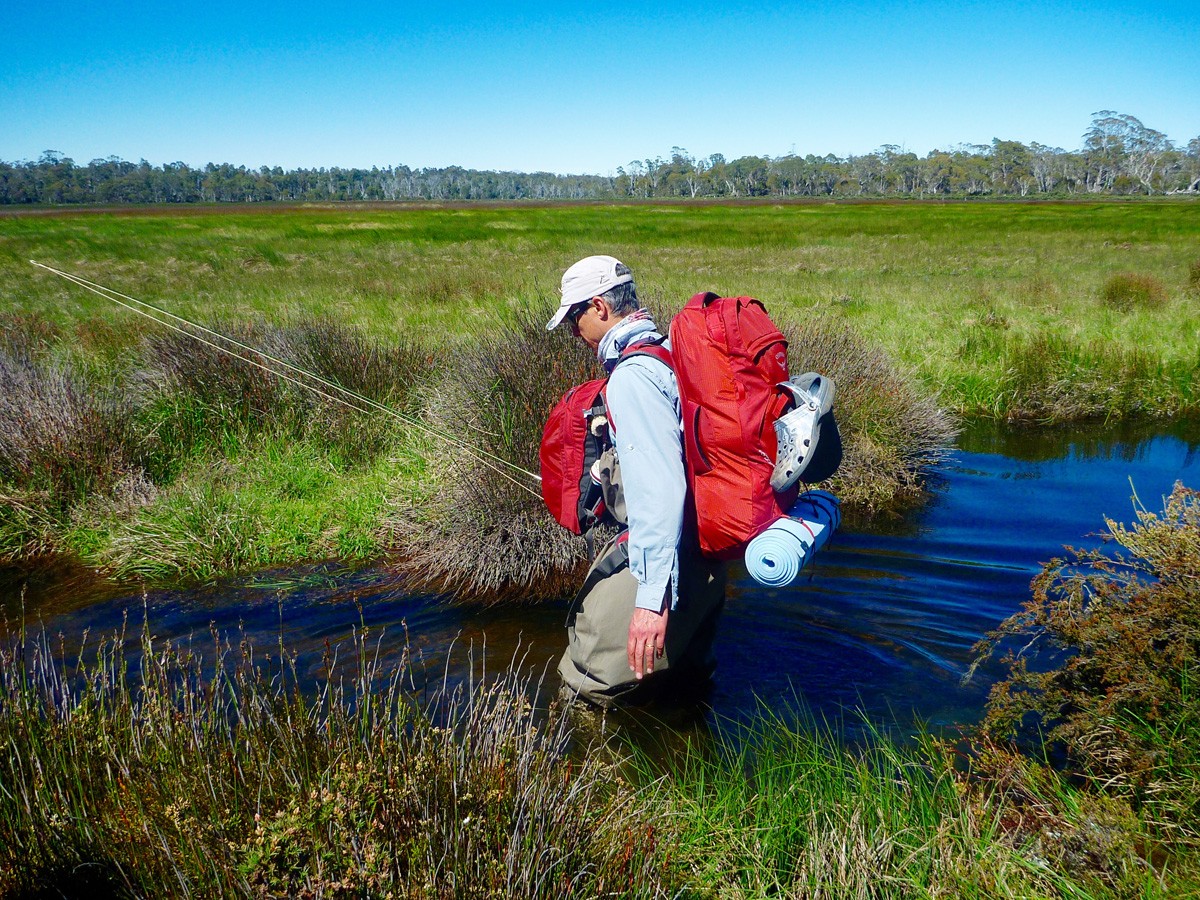 Design, Comfort & Durability (Rating: 90%)
I tested The Farpoint 55 in the M/L size. The other offering is S/M and your back length is the determining factor in selection. Osprey have fudged the sizing a little so they only have to offer two sizes rather than three (S, M, L) and the harness is a fixed back length so on this basis it probably covers 80% of the bell curve of back lengths.
The pack uses a very simple and clean design with just enough frills to make it do almost everything you would want but not too many that it becomes complicated and annoying. The main pack features a stowable harness (standard on travel packs) which for me is a non-negotiable for air travel as regular hiking packs with an exposed harness have a high chance of snagging up anywhere along the baggage handling process. The Farpoint harness cover stows in its own pocket under the pack.
The main pack has a panel style opening which is great for packing and access and inside the lid is a mesh pocket. Internal straps keep stuff shifting inside but I don't use these. Two handles, top and side are great for hauling the pack off baggage conveyors or out of the bowels of a bus.
As you can see in the photos I made good use of the "straight jacket" compression straps to tie on my tent and crocs and the mattress straps underneath. These straps are brilliant because both the buckle and clip have excess strap they can slide along.
The pack uses a combination of thin "Lightwire frame suspension" rods and a mesh back panel for transferring weight to the hip belt. Mesh and honeycomb style padding in the shoulder straps aids ventilation and maintains the lightweight nature of the pack which for the 55L weighs in at an impressive 1.77kg.
The detachable day pack volume is 15L and weighs in at just 510g so all up potentially the Farpoint 55 can carry 70L and 23kg of gear with the main and day packs fully loaded. The day pack has a really handy top pocket "Slash Pocket" and has a ventilated foam mesh back for rigidity behind which is a laptop and tablet pocket. Two mesh pockets on the outside are handy as bottle holders or in my case for scroggin and sun gloves and the shoulder straps are lightweight but sufficiently rigid to spread the load across the shoulders. The day pack can be carried zipped to the main pack or on the front clipped to the main pack harness.
Both the main pack and day pack are constructed using 210D Nylon Mini Hex Diamond Ripstop with tough 600D being utilised on the pack bottom, top and zipper gussets. The hexagonal honeycomb design looks really polished.
On the downsides, the other Osprey hiking pack we use has a handy built-in waterproof pack cover. It's no biggie though because well what's the chance you're going to get caught in a downpour with a travel pack. Having said that, I just put the moz on next month when this pack goes to monsoonal Sri Lanka so it's going to get wet. There are no external pockets on the 55, but there are on the Farpoint 70. I really would have loved just one. There is one small pocket on the day pack which is probably why there isn't one on the main pack but they are handy.
For the 55 there are no detachable shoulder straps, which are handy when you haul the pack off a conveyor and just want to sling it over a shoulder into a bus at an airport. There is a strap on the Farpoint 70. I was a little surprised that there were no hydration ports on either pack as outdoor designers like appealing to the weekend warrior in us and weekend warriors love their Camelbaks. Having said that, it's a travel pack and the likelihood of becoming desiccated on 90% of the travel that folk do these days is slim.
Functionality & Ease of Use (Rating: 90%)
The Osprey Farpoint 55 is very well thought out and Osprey have started with the end in mind when they designed these packs. I tested almost every aspect of the main and day packs except the loop attachments which could accommodate a carabiner of some sorts to hang various other bits and pieces, although I'm not a fan of stuff swinging off my pack and dangly crocs are about as far as I normally like to go. On occasion, I have found these loops on the shoulder straps to be nice for hanging a small camera pouch so a camera can be whipped out without offloading the pack.
The straps are thin and flexible and the side release clips all work nicely and tension easily. As a bit of a zipper fanatic (don't we all love smooth running zips?) I was more than happy and I really like the plastic loop zip pulls.
I'm a bit of a fan of carrying the daypack on the front as pictured. This enables better balance and weight distribution and access. This is where I was really happy to see how Osprey had concealed the clips in the main shoulder straps where the daypack attaches to, again maintaining clean lines and minimising snag points. To clip the daypack on, I found it best to clip to one shoulder strap, throw the pack on and then clip the second clip onto the other shoulder.
Travel packs traditionally have panel openings in contrast to mountaineering or hiking packs which are traditionally top loaded. It's great to be able to arrange your gear in front of you, plonk the pack on a bed and open the whole panel up and arrange items inside the pack, closing the panel as you go and stuffing things in to keep it well packed and organised. This then goes into the hold for flights and heavier or fragile items (electricals and valuables) go into the daypack and into the overhead bins.
I found the harness back length for the M/L to be too short for me, but that was the largest Osprey offered and the size chart recommended that the M/L would cover me. It didn't really but it's tolerable for two reasons – firstly a 55L pack isn't going to be super heavy and secondly, how far do you plan to hike with a travel pack? Still, an adjustable back length or offering a size L would have suited me better.
The fabric and fabric design is really hi-tech, tough and classy all at the same time. This can't be easy to achieve.
The design is clean and simple so it's a pleasure to use. It has all the features you really need without going overboard and giving you features you're just never going to use.
I really like the ventilated honeycomb foam backs in the packs. They give lightweight support to transfer weight but allow the wearer comfort at very little weight penalty.
Speaking of weight, this gear is really light without giving up durability, and at the end of the day, light is good. Your feet will thank you.
The size at 55 is probably a tad on the small size for me. I tend to travel with kids so end up with the things that no one else wants to carry like the SLR camera, snake bandages and first aid kids. For this hiking trip, I was humping a tent, sleeping bag and stove which normally one wouldn't take for regular travel. I think for a reasonably light traveller (this is a movement bordering on religion – google it) which I would be if not doing family travel with kids or off track then the 55 + 15 would suffice. On the upside, it does force you not to take some much crap when travelling and there is something freeing about travelling light. Cue an Insta-worthy quote on walking softly and not leaving footprints.
I still feel the need for an outside pocket on the main pack which you could get if you went for the 70L.
I get a little annoyed when at 6'2" I use a pack with a hip belt that sits above my hip bones so that if I try and transfer weight to my hips I squash my guts (and no, I don't have a big gut). An adjustable back length harness would be fantastic but I don't know if this feature has broken through to travel packs from the hiking pack family.
The Osprey Farpoint 55L Backpack (and most other Osprey backpacks) are available online from Wildfire Sports.
Disclaimer: Osprey provided a Farpoint 55L for review. The links above are affiliate links, meaning I make a small percentage if you purchase after clicking these links (but you don't pay a cent more).
Have you tried the Osprey Farpoint or Fairview Backpacks? Got any questions or comments? Let us know by commenting below.