Ireland is known for its stunning coastline and iconic landmarks, and one of the most famous of these is the Cliffs of Moher in County Clare. I had lived in Ireland for over a year before I finally made it to the cliffs. When I finally got there, I was instantly filled with regret for having waited so long to visit.
I had been worried that the Cliffs of Moher trails would be too crowded or that this might be an overhyped attraction, but I was pleasantly surprised by what I found when I arrived. The trail was undoubtedly popular, but I had it all to myself for short periods and didn't see any crowds until I got quite close to the Visitor's Center.
About the Cliffs of Moher
Covered in a faint layer of green and overlooking the expansive Atlantic Ocean, the cliffs are home to many types of seabirds throughout the year, including puffins. Visitors come from around the world to see the cliffs and walk the paved pathways to admire them from every angle.
The Cliffs of Moher is one of Ireland's most visited tourist destinations and does a good job of holding its own as an Irish hiking destination.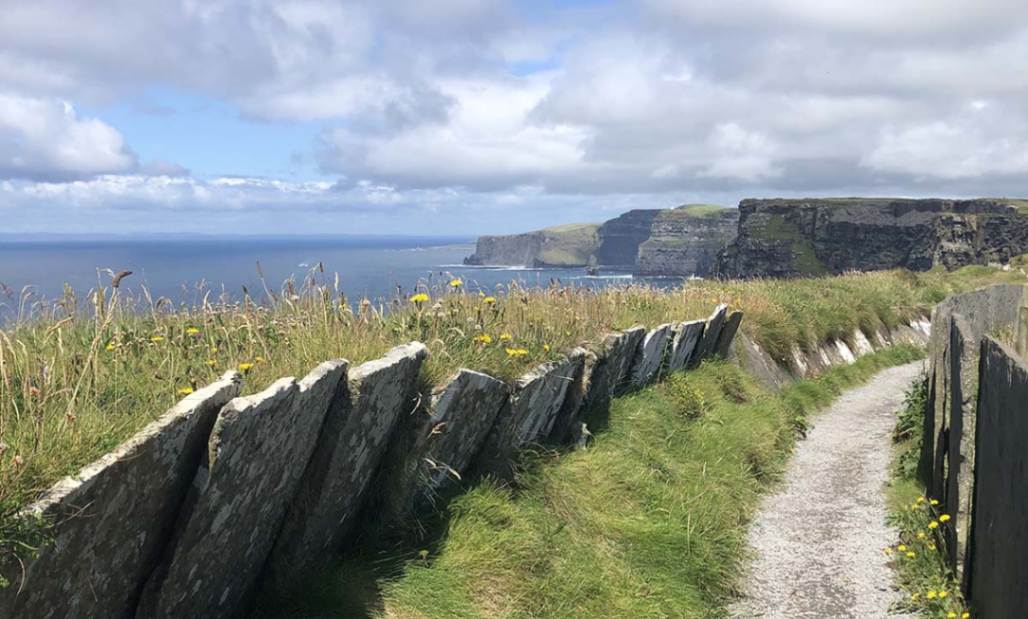 Everything you need to know before you go
Anytime you're hiking in Ireland, you'll want to be prepared for sudden changes in the weather that can disrupt your plans. One of the most significant risks to hikers is fog, which can roll in very quickly and severely limit visibility. A trail that is safe and easy to follow on a clear day can quickly become treacherous in dense fog.
Be prepared with the appropriate gear for your hike, and check the weather patterns for fog before heading out. Err on the side of caution and consider checking with the staff at the Visitor's Center if you're unsure of the conditions.
You can stay in nearby Doolin overnight or in the nearby cities of Galway or Limerick. Within the town of Doolin are a number of inns and B&Bs, as well as a few restaurants and pubs. Doolin is quiet, so you'll definitely want to stay in a more urban area if you'd like to take advantage of the nightlife while in the West of Ireland.
There are no official campgrounds near the Cliffs of Moher, but you can wild camp if you can find a spot. To wild camp, you can politely ask local farmers if they know of any campsites nearby, and they may be able to direct you to a secluded spot.
When
packing for Ireland
, be sure to bring appropriate rain gear and plenty of layers. The weather on the cliffs can change rapidly, and there aren't many trees to duck under if the rain picks up. Ensure your shoes are waterproof, and bring snacks, water, navigation gear, and sun protection.
About the Cliffs of Moher trail
A walking trail along the Cliffs of Moher stretches from Moher Tower at Hag's Head to Doolin, with the Visitor's Center/O'Brien's Tower approximately at the halfway point.
As there are parking areas at all three points, there are several ways that you could do this hike. If you have a car, I'd recommend starting from the south and hiking north to the Visitor's Center, then hiking back the way you came to return to your vehicle. This path offers excellent views of the cliffs nearly the entire way to and from the famous viewpoints near O'Brien's Tower.
You'll walk along a path nestled between the cliff's edge and a fence, so it is very easy to follow. The trail is mostly flat, with a few gentle inclines or declines in spots. As you approach the Visitor's Center, you'll notice that the path widens and the number of visitors you encounter will increase.
Most people who visit the Cliffs of Moher drive or take a bus to the Visitor's Center and see the portion of the cliffs nearest the parking lot. These views are not to be missed, but you're almost certain to run into crowds of people. If you don't mind the other tourists, you can check out the Visitor's Center to learn more about the area and enjoy a cup of tea or an ice cream cone while you rest your legs.
Length: 9 km
Time: 3 hrs (allow extra time to check out the Visitors Center or if you want to hike more of the trail)
Grade: Easy
Style: Return
Path Taken: Moher Tower at Hag's Head – O'Brien's Tower (near the Visitor's Center) – Moher Tower at Hag's Head
Car Access: There are private car parks near Moher Tower at Hag's Head. Navigate towards this landmark and look for the farm offering parking at the end of the road. You will need cash to pay for parking.
Public Transport Access: You can access the Cliffs of Moher from nearby Doolin using public transit, but you won't be able to do the route described in this post. There is a bus service between Doolin and the Visitor's Center. So, you could a) start in Doolin and hike to the Visitor's Center, then take the bus back to Doolin, or b) take the bus to the Visitor's Center and hike to Moher Tower at Hag's Head, then back to the Visitor's Center, or c) hike from Doolin to the Visitor's Center then back to Doolin (no public transit required).
Map: This trail is visible on Google Maps. To follow along, navigate to Moher Tower at Hag's Head and then use the walking directions to get to O'Brien's Tower. The trail is well-marked, so you shouldn't have trouble following it on a clear day.
Further Info: There is a fee to park at the Visitor's Center, which is also called the Cliffs of Moher Experience. You'll also need to pay in cash to park near Moher Tower, but the fee will be much smaller. 
This trail follows a cliff edge that is, at times, unprotected. Practice extreme caution and do not approach the cliff's edge for any reason. The trail starting at Hag's Head is inappropriate for small children, though the area near the Visitor's Center is much safer.
Have you visited the Cliffs of Moher? Got it on your bucket list? If you have any stories, updates or corrections, please let us know by commenting below.