Every time I visit Lerderderg Gorge, I'm surprised by its rugged beauty. I've probably said it before, but there's nowhere else this close to Melbourne that feels so unfathomably wild.
If you're looking for a trail that exemplifies this, The Whiskey Creek Short Circuit is worth considering for your next adventure – another contender would be the Lerderderg Gorge Northern Circuit. You'll love the gorge's biodiversity, stunning vistas, and intriguing mining history – the rugged terrain serves a slice of adventure on every step.
Even when Victoria is in drought, Lerderderg Gorge is still an incredibly beautiful place. While the Lerderderg River (and its tributary creeks) might not be flowing, you have the added advantage of being able to more easily traverse some of the gorge's most incredible sections while staying completely dry.
The Whiskey Creek Circuit (see 'Need to know section' for details) can be hiked when the rivers and creeks are flowing but with the river and creek crossings, you'll probably get your feet wet. On our visit, the creek was completely dry, allowing us to cut the circuit down by an hour or two by traversing the creek bed.
From the car park on Mt Blackwood Road, briefly set off on Square Bottle Track and take a right into Razorback Track. You'll immediately start to descend into the heart of Lerderderg Gorge. There are more grass trees here than I've seen in any other part of Lerderderg State Park, and not a single sign of the Cinnamon Fungus that seems to be killing them off almost everywhere else in Victoria.
After around 2.5 kilometres, turn off to your left onto Razorback North Track and descend the steep narrow spur to the junction of the Lerderderg River and Whiskey Creek. It's here in the depths of the gorge that you'll really feel the isolation. This is as wild as it gets within 60 kilometres of Melbourne (or most other capital cities).
This is the part where hikers can choose to continue on the full 10.5-kilometre Whiskey Creek Circuit (again, see the details in the 'Need to know' section) or the Whiskey Creek Short Circuit. We opted for the latter, turning left (west) up the dry bed of Whiskey Creek. This section of the hike is quite taxing since, for the most part, you have to rock-hop up the creek bed. We encountered several walls of flood debris where finding a path was difficult, but the most challenging part was remembering to stop and take in the incredibly rugged landscape and the stunning vegetation, rather than constantly watching our step.
Need to Know
Length: 8 km
Time: 3 hrs 30 min
Grade: Moderate / Grade 4 (according to the Australian Walking Track Grading System).
Style Circuit
Region: Western Victoria
Park: Lerderderg State Park
Closest Town: Bacchus Marsh (20 km)
Path Taken: Square Bottle Track – Razorback Track – Razorback North Track – Junction of Lerderderg River and Whiskey Creek – Whiskey Creek – Square Bottle Track.
Car Access: Melbourne – Western Freeway – Myrniong exit (after Bacchus Marsh) – right on Myrniong – Greendale Road (1km) – right on Mt Blackwood Road (8km) – car park on right, just after Shuter Track – start walking on Square Bottle Track.
Map: All tracks are covered in the Parks Victoria Lerderderg State Park Visitor Guide, but I recommend bringing a topographic map for any hike in Lerderderg Gorge. Vicmap has a Lerderderg 1:25,000 topographic map, and Meridian Maps publishes a Lerderderg & Werribee Gorges 1:35,000 map.
The Full Whiskey Creek Circuit: The 10.5 km / 4-5 hrs Whiskey Creek Circuit is challenging unclear tracks and even more steep ascents and descents. This is the route: Square Bottle Track – Razorback Track – Razorback North Track – Junction of Lerderderg River and Whiskey Creek – Cowan Tack – Lerderderg Track – Kenworthy Track – Vodka Track – Square Bottle Track.
The Whiskey Creek section is the most rewarding part of the hike, though, where you'll constantly be reminded of the forces that created this magnificent gorge. It appears to be rarely visited by humans, but when you come across a bend in the creek where there aren't high cliffs, it's worth cutting corners and following the animal tracks. Kangaroos, wallabies and goats – yes, goats (they almost look like they belong in Lerderderg Gorge) – are likely to be the only other beings you'll encounter traversing Whiskey Creek.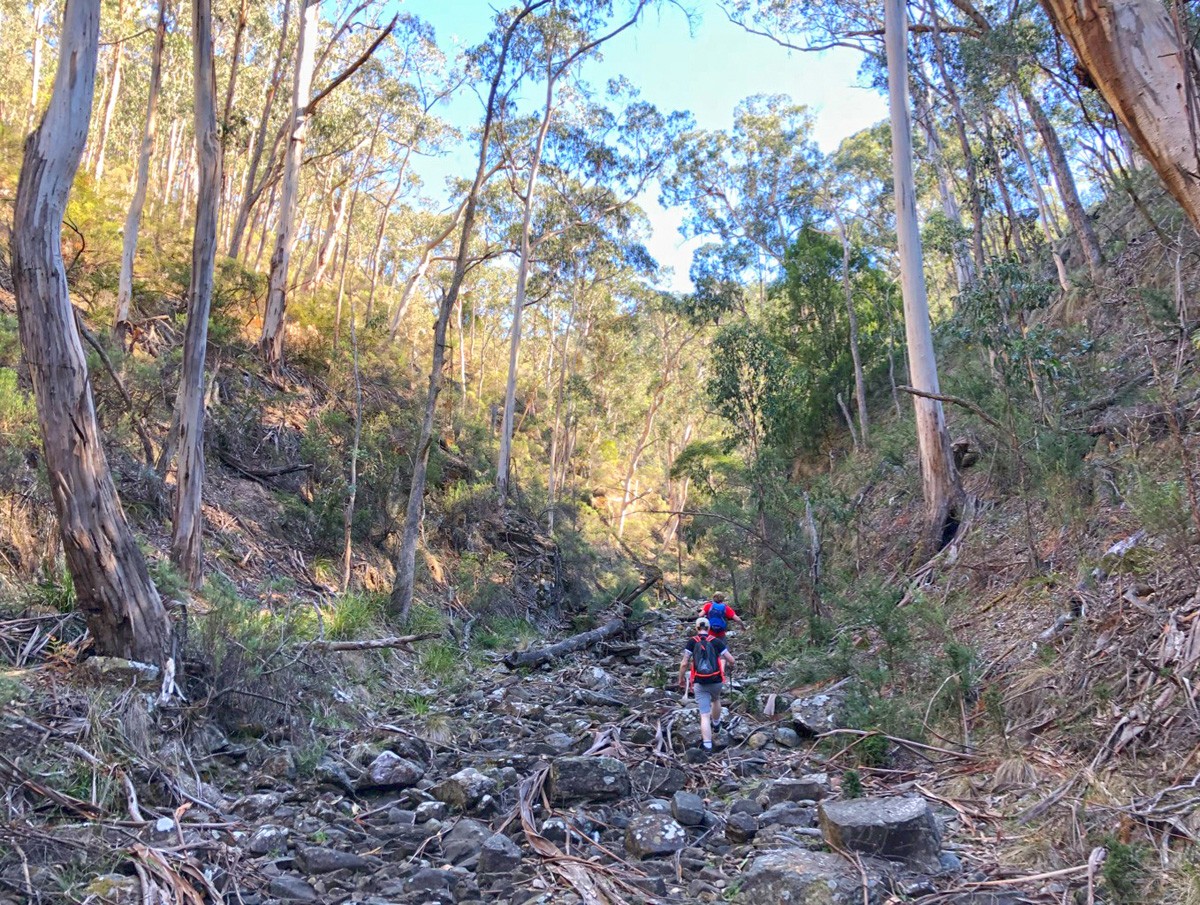 After another 2 kilometres or so you'll see a track intersecting the creek. To your right is Vodka Track, where you might come across other hikers descending from above (those who hike the full Whiskey Creek Circuit). To return to your vehicle, you'll want to head left (south) up Square Bottle Track. Pause here to snack on your preferred source of quick energy – I suggest trail mix (with M&M's, of course) or raspberry liquorice – because the home stretch back to the Mt Blackwood Road car park is an uphill battle. As you gradually climb your way out of the gorge, you'll be glad for any excuse to stop for breath, and Lerderderg State Park provides plenty to stop and look at – more grass trees, more wallabies and roos, and fleeting views across the gorge from between the trees.
The Whiskey Creek Short Circuit is undeniably a Grade 4 trail – challenging and physically demanding, at least for me. At only 8 kilometres, it might be a short hike for some of you, but I think you'll find it incredibly rewarding regardless. You'll definitely want to come back and explore more of Lerderderg Gorge State Park.
Have you visited Lerderderg Gorge? Got it on your bucket list? If you have any stories, updates or corrections, please let us know by commenting below.
Exploring the Great Ocean Road?
You won't see the best sights from your car. Get the definitive guidebook, featuring the 25 best walks in the area with detailed instructions and maps.